The ReCONNECT to Community Impact Report provides a synopsis of the ReCONNECT to Community Forum and provides key statements, findings, readings and further steps for reconnection of civic engagement in NC. We invite you to read what we've heard and learned, test out our "six recommendations" in your community. We also hope you will share what you're discovering with ReCONNECT to Community program lead Maggie Woods.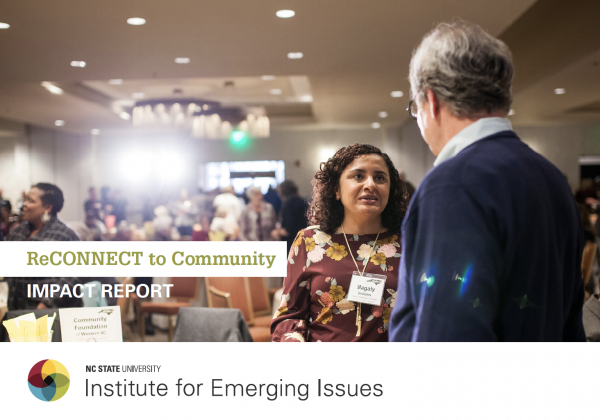 Click here to download and print a copy of the ReCONNECT to Community Impact Report
SPECIAL THANKS
ReCONNECT to Community Forum manager: Maggie Woods
Impact report:
Eric Johnson, editorial;
Paul Nolan, design
Greg Hedgepeth, communications director
THE STAKES OF RECONNECTION
There is no community without connection. The ties between neighbors, between organizations, between civic leaders and the people they serve — the strength of those bonds determines the health of our society and our ability to get stuff done.
It begins face-to-face — in our neighborhoods, in our towns, in the day-to-day relationships that order our lives. Our connections to the community around us aren't just vital for individual wellbeing — they are the building blocks of our civic culture and our community success.
For the past decade, most Americans have felt that culture has gone off track. Poll after poll finds a strong majority think the country is moving in the wrong direction, with deepening distrust in the country's core institutions, from churches to businesses to government, and declining participation in both work and civic life.
At the opening forum of ReCONNECT NC in Asheville, hundreds of North Carolinians gathered to discuss what happened and how to turn it around. Business owners, teachers, politicians, local officials and ordinary citizens from across the state spent a day in intense conversation and close listening about the infrastructure of trust in our communities.
During his keynote address, New York Times columnist David Brooks spoke in vivid terms about the cost of frayed social bonds. People naturally want to be part of something bigger than themselves, and everyone suffers when that fundamental need isn't met. "This shows up in a bunch of social problems," Brooks said. "Most Americans suffer strong feelings of loneliness and a significant lack of relationships." Indeed, while most of the developed world is seeing declines in suicides and overdoses, the US is seeing an increase in these "deaths of despair."
"We're trending in a line that is downward, and it's time to turn that around," said Leslie Boney, director of the Institute for Emerging Issues. "It's time to look for another set of solutions that might help us move forward."
Those solutions are most likely to be found at the ground level, where energetic North Carolinians from all walks of life are trying new approaches to connect with neighbors and tackle shared problems. All day in Asheville, local reformers shared stories of moving from frustration to action, each with a different theory of change, a different point of attack and a different set of results.
In Cary, a police chief and a community activist developed a plan for better relations between officers and residents. An Asheville environmentalist and a Duke Energy executive shared countless cups of coffee together and forged a compromise on new power infrastructure. A newspaper editor in Greensboro invited online commenters out from behind a screen and into a local bar, creating trust and accountability for local media.
The common thread across all of these stories was personal connection — the importance of coming together, face-to-face, to hash through difficult subjects. It's a civic skill that has to be trained and exercised to be effective, argued North Carolina State University Professor Mary Lou Addor. "I think we have to take on that responsibility to be informed," she said. "I think it's our responsibility to our democracy to learn these skill sets."
At the center of the ReCONNECT to Community Forum were five communities that have put those listening and dialogue skills to work around unique problems. Selected from a statewide pool of applicants, these five places shared their successes and setbacks for the benefit of others. Bringing their voices together is a critical part of restoring our civic health and the Institute for Emerging Issues will be working with them over the next two years to strengthen and magnify their voices.. "There are a lot more positive narratives out there, but they're lonely and disconnected," University of Virginia professor Phillip Zelikow has said. "It would make a difference to join them together as a chorus that has a melody.
David Brooks agrees. "Building working relationships across a community is an intrinsically good thing," he wrote in October 2018. "You do enough intrinsically good things and lives will be improved in ways you can never plan or predict. This is where our national renewal will come from. "
At the Forum, state lawmakers of both parties echoed the optimistic vision of local leaders, explaining the depth of day-to-day cooperation that happens without attracting many headlines. And that, explained Republican Senator Chuck McGrady, comes down to personal connections between lawmakers. "I think we need to really spend more time on building relationships," he said in a conversation with Democratic Representative Terry Van Duyn. "If we can find ways to create opportunities for us to actually talk to each other… we may still disagree, but we may be in a better place to compromise."
The foundation for those compromises will come from many of the people in the room at ReCONNECT NC, and many more watching and listening across the state.
"I firmly believe our best days lie ahead," Lt. Governor Dan Forest said. "I believe that because you can look around a room like this and see hundreds of people desiring to come together to make North Carolina a better place, to make their communities a better place, to sit down and actually have conversation about some really tough topics. … I think that's a good thing for us, and it bodes well for the future."
Organizing hundreds of North Carolinians around the theme of connection proves that there's a powerful constituency for hope in our politics and public lives. From the mountains to the sea, North Carolina has a coalition of people whose shared devotion is not to any one policy but to the very idea of a vibrant community life.
RECONNECT COMMUNITIES
Each forum in the ReCONNECT series will showcase communities working to strengthen local ties. By sharing new ideas and hard-earned lessons from these experiments in reconnection, ReCONNECT NC will spark progress and build networks of support across North Carolina.
The Asheville forum highlighted people in five places where extraordinary work is taking place to rebuild civic strength. The Institute for Emerging Issues will be working with them over the next two years as they explore new models for reconnecting to community.
Explore Elkin (Elkin)
Choosing Equity Series (Asheville)
Rural Opportunity Institute
(Edgecombe County)
One Team. One Goal. One Community
(Elizabeth City)
Thomas S. Kenan Institute for the Arts
(Winston-Salem)

EXPLORE ELKIN (Elkin)
ReCONNECT Community Cohort
Like many small towns across North Carolina, Elkin suffered an economic and social crisis when the local textile mill declined and largely closed at the turn of the 21st century. "Chatham Manufacturing was the primary economic driver in our community," explained longtime Elkin resident Jeff Eidson. "Everyone was connected to Chatham in some way. Chatham provided us with a common bond and a true sense of community."
Without that common bond and the thousands of jobs that came with it, the town of Elkin lost its core. Downtown stores shuttered. Families moved away. And the pride of making a product sold all over the world faded into memory.
"It felt like we were losing a piece of ourselves," Eidson said.
To reclaim that local pride and recast Elkin as an arts and tourism destination, the town in 2017 launched an initiative called Explore Elkin, with Eidson serving as president. The catchy name helped attract visitors, but it also served as an invitation for the town to look inward — for residents to think hard about what gave Elkin its sense of place. Town leaders knew that conversation couldn't take place among a small group. They needed buy-in from the whole town.
More than 300 people showed up for the first community meeting of Explore Elkin, all of them sporting red "I'm All In!" stickers to proclaim their commitment to the town. "The energy in the room was electric," Eidson said. "I suddenly felt there was nothing we couldn't accomplish if we came together as a community."
Hundreds of "Elkin Explorers" have donated to the cause, helping fund promotional efforts and strategic planning to make the Elkin area a destination for music, art, and outdoor recreation. Now Elkin is seeking to take the efforts to a new level, looking to fully involve the growing Latino community in their rebranding efforts.
"Everywhere I go, people are excited about the growing sense of community around Explore Elkin," Eidson said. "It truly is a movement."
CHOOSING EQUITY SERIES (Asheville)
ReCONNECT Community Cohort
School equity is usually measured in a barrage of data — proficiency gaps between students of different races, lower test scores or graduation rates for low-income students, higher rates of suspension or disciplinary action for minority students.
At ReCONNECT NC, Kate Pett made sure to highlight the human stories behind those troubling statistics. As the director of the Asheville City Schools Foundation and a former teacher, Pett has known promising students who fell through the cracks, young people who had big dreams but couldn't overcome the weight of their circumstances.
"The difficulty is that when we try to talk about this issue, people tend to point fingers rather than try to come up with constructive, creative solutions," she said. "So my question to you is this — instead, how can we support each other? How can we support each other in this critical work so that we stay connected, constructive, and energized for the long haul?"
Part of the answer for Asheville has been a patient, determined effort to get people from different backgrounds into the same room. That's the best way, Pett and her colleagues believe, for people to overcome mistrust, share stories, and grapple honestly with the challenges of equal opportunity in the Asheville City Schools.

"Our goal was to bring the community together to talk about how race has different impacts for our children, and how we can all work together to create better outcomes for all of our children," she said.
Making sure those conversations were constructive took lots of planning and effort. Meetings in the "Choosing Equity" series were held in community centers and local schools, places where parents would feel comfortable. They also made sure to provide transportation, child care, and food so that everyone would have the chance to participate.
"We didn't leave attendance to chance," Pett said. "We sent thousands of emails… and we made scores and score of phone calls, particularly to people who haven't been invited in the past. We said, 'What do I need to do to make sure you get there?'"
That outreach helped build trust and create momentum to close achievement gaps in Asheville. The Asheville City Schools Foundation has led initiatives to recruit more diverse teachers, expand the curriculum to include a broader look at local and national history, and bring more minority and low-income students in Advanced Placement and Honors classes.
"It will be difficult, and it will take time," Pett said. But choosing equity — and doing the work to make it happen — is already bringing Asheville closer together.
RURAL OPPORTUNITY INSTITUTE (Edgecombe County)
ReCONNECT Community Cohort
Doris Stith could tell the problems in her community ran deep — deeper than she could see. Some of the most promising young people she encountered in Edgecombe County were falling through the cracks, failing to graduate high school, repeating cycles of poverty and teen pregnancy. She told the story of one young man who wanted to be a doctor, who made trips to the library to study and check out extra books, and still found himself expelled from school for behavior issues.
The young man, like many others in his community, was suffering from childhood trauma, but none of those trying to help him knew it. "When we are not trauma-informed, when we don't get this education, we are losing our children," Stith said.
Through a project of the Rural Opportunity Institute, community leaders in Edgecombe County are receiving comprehensive training in trauma-informed care, designing interventions that are meant to break generational patterns of adverse childhood experiences. Everyone from teachers and sheriff's deputies to medical personnel are being trained to teach resilience and coping methods to young people.
Stith cited The Deepest Well: Healing the Long-Term Effects of Childhood Adversity, and described how the restorative approach had changed the way she looks at troubled students. "We need a system that doesn't bring punishment, because that's not what a traumatized person needs," she said. "They need healing."
Organizers know that the project in Edgecombe County will only be successful if it is embraced by and steeped into every public agency, major nonprofit, and medical provider in the community. The next step, Stith says, is to reach out to vulnerable parents who may be unintentionally seeding patterns of destructive behavior.
Stith and her colleagues in Edgecombe County are building a comprehensive network of support for identifying childhood trauma and addressing it before deeper problems emerge. "When you become trauma-informed, you begin a season of healing," she said. "There's a child you'll touch, a parent you'll help, there's a whole community."

ONE TEAM. ONE GOAL. ONE COMMUNITY
(Elizabeth City)
ReCONNECT Community Cohort
Russ Haddad, director of community and economic engagement at Elizabeth City State University, is clear-eyed about the challenge ahead. "I understand the skepticism of people who hear about another initiative to bring the community together," he said. "We have a history of well-intentioned plans that have had limited success."
Deepening his university's ties to the surrounding city will mean bridging old divides. As an historically black campus in a southern town, ECSU is working against a legacy of exclusion that kept the campus partly isolated from the broader Elizabeth City community. Those same lines of exclusion still shadow the city itself, making cooperation and compromise harder to achieve.
Haddad and city officials are ready to see ECSU and its students take on a bigger role in addressing those issues. Through the Viking Volunteer Corps, ECSU freshman complete 24 hours of community service for local organizations. And the university is partnering with other educational institutions in the region to create collaborations across lines of race and class.
"This is an alliance between civic leaders, higher education, faith leaders, public schools, business and support agencies, nonprofits, and perhaps most importantly, the regular person who may feel left out and has had no opportunity to make a difference," Haddad said. Putting students to work in marginalized communities — and getting help from some of the region's most established organizations — helps break down the mistrust that has hindered the community over time.
Haddad looks to ECSU founder Hugh Cale for inspiration. One of the first black lawmakers in North Carolina, Hale held a number of influential civic roles in Elizabeth City. "He saw the potential in people, particularly those of color, and the need to shake up the status quo," Haddad said. "Hugh Cale's vision still seeks fulfillment."
THOMAS S. KENAN INSTITUTE FOR THE ARTS
(Winston-Salem)
ReCONNECT Community Cohort
Promoting civic engagement is tricky — more of an art than a straightforward science. So it only makes sense that Winston-Salem is turning to its artistic community for creative approaches to civic problems. The Community Innovation Lab sponsored by the Kenan Institute for the Arts brings together artists and local leaders to think up new ways of getting people invested in their city.
"I was interested as an artist who was really hungry to make a greater impact in her community," said Nadiyah Quander, who manages the Creative Community Lab and oversees the Kenan Institute's partnership with the North Carolina School of the Arts. "And they also had free lunch — they always gave us free lunch!"
Getting a cross-section of people to share a meal was a critical first step. Part of the goal for the Kenan Institute's work is opening direct lines of communication between business leaders, public officials, artists and residents about the shared challenges in Winston-Salem. Participants in the Innovation Lab were asked to commit to a series of workshops spread over many months, giving them the chance to build trust and develop strong working relationships.
That kind of commitment is necessary when you're trying to address deep-seated community issues. "How do we create a more equitable and abundant Winston-Salem for us all? And how do we build trust to make that change possible?" Quander asked. "You know, easy stuff!"
The Community Innovation Lab didn't just raise those fundamental questions — it offered tools for participants to tackle them. Agency officials and residents, for example, worked with the Center for Design Innovation to apply the principles of design thinking to social service delivery in Winston-Salem.
Another initiative asked participants to view the city from a new angle. People who may never have used the bus system went on a journey with low-income residents who use it everyday, giving them a new perspective on mobility.
Having artists involved in the process helped keep the conversations flowing, drawing on the experiences and habits of people who are used to taking on creative problems and seeing the world through different lenses.
"The community was energized around this idea," Quander said. "It was really, really hard. But what resulted was incredibly rewarding."
SIX ACTION STEPS TO ReCONNECT TO COMMUNITY
To address the big challenges our communities are facing, we need an epidemic of enthusiasm. There are things we can do – on an individual level, a community level and a state level – to help reconnect North Carolina. To hear ReCONNECT to Community program lead Maggie Woods discuss the six recommendations with IEI Director Leslie Boney, take a listen to their discussion on our First in Future podcast.
---
Individuals

#4CookieChallenge
Just 1 in 16 (6.4%) of North Carolinians report working on a project with a neighbor in the past year. The first step in improving that comes with getting to know your neighbors. It's as simple as Bake/Knock/Talk. Bake a plate of cookies (or a healthy snack). Knock on the door of a neighbor you don't know. Have a chat about something that isn't politics. Take a photo and share it with social media along with #4CookieChallenge. Challenge them to do the same. #4CookieChallenge Video
Individuals

Give Four
Give Four – Our latest data show that only 1 in 4 (24.4%) North Carolinians have volunteered for anything in the past year. Your challenge: find one group you admire (one list of possibilities is here and spend four hours getting to know them. It could be volunteering for an afternoon of service. It could be attending a public meeting. It could be meeting with a staff member, or doing online research about the organization. After 4 hours, consider taking it to the next level, volunteering more time and recruiting a friend to join you.
Communities: 

Take a "Snapshot"
IEI built a user-friendly guide illustrating the level of connectedness in every North Carolina county. ReCONNECT County Snapshots consider civic participation, rural-urban connections, economic participation, health and technological connections. They highlight county strengths and areas of improvement. We suggest you invite a group of interested friends to a meeting to discuss your county's snapshot. You can download a handy discussion guide here.
---
Communities: 

Get "professional" help
At the Forum, IEI introduced five places that are doing remarkable work in increasing civic participation in a variety of ways across our state. They're eager to share their experiences and offer candid advice. Take your pick: if you're interested in increasing parent participation to promote equity in schools, reach out to (Asheville). Rekindling civic pride? Talk to (Elkin). Expanding the number of college community partnerships? Reach out to (Elizabeth City). Involving more artists to solve community challenges? Chat with (Winston-Salem). Building a community coalition to tackle a tough issue? Talk to (Edgecombe County).
ASHEVILLE

nieva.arana@acsgmail.net
ELKIN

exploreelkin@gmail.com
ELIZABETH CITY

rghaddad@ecsu.edu
WINSTON-SALEM

kenanarts@uncsa.edu
EDGECOMBE COUNTY

vichi@ruralopportunity.org
State policymakers

Launch a civic conversation series
In order to make progress on tough issues, citizens, business and community leaders and elected officials need to practice talking to each other. North Carolina should launch a "civic conversation" series in communities across the state -- where people can discuss topics or importance to them and make progress without anger, name-calling, or other personal attacks. At the Emerging Issues Forum in Asheville, Sen. Terry Van Duyn (D-Buncombe) and Rep. Chuck McGrady (R-Henderson) modeled what such conversations would look like, and earlier in 2018, Rep. Craig Horn (R-Union) and Sen. Jeff Jackson (D-Mecklenburg) convened just such a discussion at Wingate University. We propose to bring together a number of organizations with interest in civil conversation to start a movement across the state and will encourage legislators to help lead the effort.
State policymakers

Taking "Service" to Scale
Service Year Alliance —a national, bipartistan organization lead by Lt. General (ret.) Stanley McChrystal — hopes to make a year of service a "common expectation" for all young Americans. Research shows that service year programs like AmeriCorps, Teach for America, City Year, and College Advising Corps not only help communities and organizations address big challenges, but also increase participants' job opportunities and civic participation. Each year, only about 1,200- 1,400 North Carolinians give a "year of service" to their communities. A movement championed by IEI called Service Year NC aims to double that number. We encourage groups across the state to bring service year corps members to their community. To find out how, contact IEI's Service Year NC Director, Darryl Lester.
---
Maya Angelou's advice for people seeking to take on any tough challenge was simple. "Just do one thing to start. Then you can do the next thing." The journey of #reconnectnc starts with one thing, too. What will be your first step?
THE WISDOM OF CONNECTION

Speakers from every region and every part of the political spectrum echoed the importance of civic "reconnection" during the ReCONNECT to Community Forum. A sampling of their wisdom follows.
When you leave people isolated and alone, they do what their evolutionary roots tell them to do — they revert to tribe. Tribalism seems like community, but it's actually the flip side of community. Community is based on mutual affection; tribalism if based on mutual hatreds.
It's not between good people and bad people — the line runs down every individual heart. We all make these choices that weaken community. Every action we can do either weaves community or rips apart community, and we all are part of the solution or part of the problem.
– David Brooks,
New York Times columnist
If we are to have a chance to reconnect for a more prosperous future, we must look at ourselves in the mirror--as a community and as a nation"
– Darin Waters, UNC Asheville
Business owners cannot wait for someone else to fix a problem or create a vision for our communities. There are very tangible benefits for developing a corporate strategy that allows for community involvement… Participating in community activities shows customers and clients that a business cares more about the community than just the bottom line. This leads to a better business climate for everyone, and growth in their business.
Addressing these issues in our communities is economic development at its best.
– Janice Brumit,
Dogwood Health Trust
The question in front of us is this: Why can't we talk to each other, despite all of the communications tools that we have? How can we have more meaningful and impactful discussions with those who are different from us?
– Lou Addor, NC State University
I believe churches can be catalysts for human, community, and economic development in the regions that they serve. They have tremendous gifts and assets for this work and in this endeavor, including a theological language that allows them to hold complex ideas in tension. And they are often on the front line of some of the most challenging issues that this state is addressing — immigration, race, addiction, economic mobility or the lack of it, and more recently, storm recovery.
– Robb Webb,
The Duke Endowment
Taking the time to understand people — What motivates them? What is important and why? — is critical. So think about that commitment. This isn't something you can have one conversation and solve. You have to ask, you have to listen, and you have to be able to learn and act on what you've learned.
– Jason Walls, Duke Energy
For us to be successful, we really had to focus on building healthy, equitable relationships. Those are the type of relationships that really bind you. The tighter they are, the more transparent they are, the more impactful they are. And they will sustain you in the hard moments when you have to have hard conversations.
– Tracey Greene-Washington, Found of CoThinkk
It's about giving people a chance to get involved in the decision-making process. And it is about connecting people to a better understanding of themselves and one another.
— Russ Haddad,
Elizabeth City State University
You don't have to agree, just engage in the conversation. That's what matters. Every conversation makes progress.
– Tony Godwin, Chief of Police,
Town of Cary
You have to meet people where they are and love them, even if you don't love where they are.
— Tru Pettigrew, Tru Access
Connections may not be 'scaleable," but they can be contagious.
– Jeff Eidson, Explore Elkin
I make a conscious effort to try to get with people might be viewed as on the other side of some issue. I find I learn a lot more from people with whom I disagree. I used to be a trial lawyer, way back — I'll confess to that. And when you're preparing for a trial, you've got to learn the other side of the case… and I find that's true in public policy.
– The Honorable Chuck McGrady, NC Senate
People just want to be heard. And if you give them an opportunity to be heard, they're really not all that upset that you disagree with them, as long as you're willing to listen.
— The Honorable Terry Van Duyn, NC House
If we're going to really resolve many of the issues we've discussed here today, we're going to have to have leaders who are willing to reach across the aisle and talk to one another.
— Jack Cecil, Biltmore Farms
and IEI Board Chair
"We don't live in the old community (we used to) anymore. We just sleep there. The old community was undermined by the automobile that carried us away, TV and air conditioning that drove us inside, the two-earner family that wears us out and now the computer that connects us to the next country and isolates us from next door." – George Autry Founder, MDC
VOICES IN THE CROWD
Throughout the ReCONNECT to Community forum, we heard feedback from participants, whether present in the room, watching the broadcast on UNC-TV's Public Media NC or following via livestream. Here's some of what they had to say through EdNC's Reach NC Voices platform:
On North Carolina's current state of connectedness….
"People live more isolated lives, disconnected from communities and institution within communities such as churches and civic organizations."
"The current generation ages 28-40 are certainly driving the increase in civic engagement. They are bringing energy with increased communication methods and ways to share our thoughts! Now to find civility again!"
"The older I got, the more involved I got in my community which immediately meant I had to get involved in civic engagement if I wanted to impact any change."
"Civic engagement has decreased in my lifetime because often people who look like me are only deemed a part of society when we are needed to vote. Our humanity is otherwise denied to us daily."
"Because there is a feeling & sense of social disconnect, often levels of civic engagement feel immensely transactional, moving further away from transformational relationships that build connection, collaboration & equity."
"I'm a millennial and feel that my generation is active online, but are still individualistic in the sense of time. We aren't willing to give time to others if it's inconvenient."
"People no longer feel a personal imperative to be engaged civically; many old platforms for civic engagement are dying, and new ones have yet to be scaled. People love to share their opinions, but hesitate to change."
"People seem to be (1) hibernating and (2) going to Walmart."
On having tough conversations….
"[I had] a deep and unexpected conversation with an HVAC repairman who is an ardent Trump supporter. I am not. We were able to have a genuinely respectful conversation while also acknowledging that we were not going to convince each other of anything. Instead we realized – and said aloud – that we are Americans who love our country equally and that alone means we are not enemies."
"Don't engage people on Facebook! In person is always better, and focus on your perspective and why you have that. Also listen to what the other person is saying and ask probing questions."
I learned….
"How to teach others to be kind…"
"Importance of listening."
"Others are working hard in their community…I can learn from [them]."
"For civil conversation, people need to express their expectations before discussion gets heated."
"Integrated classes are better for learning."
"To change the way we take [in] news so that we re-establish trustworthy data and facts that shape our decisions and actions."
"Know when to step up and when to step back so someone else can."
"That the differing areas at [our] table all had so many of the same issues."
"One small ripple makes a big wave."
Parting thoughts…
"A wonderful event that helped me see the broader picture in my community."
"Thank you for locating the forum in Asheville this time. It was a thought-provoking, invigorating, uplifting experience. It's gotten my brain pondering!"
"Great concept. Let's keep it going."
THE NATIONAL MOVEMENT TO CONNECTION
The work we are doing in North Carolina isn't happening in isolation. Across the United States, people are calling for "reconnection" and beginning to do the work of "reconnecting."
…. these collective impact approaches are exciting and potentially revolutionary. Trust is built and the social fabric is repaired when people form local relationships around shared tasks.
— A Really Good Thing Happening in America, a column by David Brooks. October 2018.
————
When the national mood after the first Gilded Age favored reform, possibilities that had been tested, refined, and made to work in various "laboratories of democracy" were at hand. After our current Gilded Age, the national mood will change again. When it does, a new set of ideas and plans will be at hand. We've seen them being tested in towns we never would have suspected, by people who would never join forces in the national capital but who work together "at home." Their projects, the progress they have made, and their goals are more congruent than even they might ever imagine. Until the country's mood does change, the people who have been reweaving the national fabric will be more effective if they realize how many other people are working toward the same end.
— Our Towns: A 100,000-Mile Journey Into the Heart of America, by James and Deborah Fallows. 2018.
————
The middle layers of society, where people see each other face to face, offer a middle ground between radical individualism and extreme centralization. Our political life need not consist of a recurring choice between having the federal government invade and occupy the middle layers of society or having isolated individuals break down the institutions that compose those layers. It can and should be an arena for attempting different ways of empowering those middle institutions to help our society confront its problems.
There will be no simple or universal formulas for doing that, but there are never simple or universal formulas for revitalizing a complex society. Indeed, the absence of easy answers is precisely a reason to empower a multiplicity of problem-solvers throughout our society, rather than hoping that one problem-solver in Washington gets it right.
— The Fractured Republic: Renewing America's Social Contract in the Age of Individualism, by Yuval Levin. 2016.
————
Power increasingly belongs to the problem solvers. And these problem solvers now congregate disproportionately at the local level, in cities and metropolitan areas across the globe.
— The New Localism: How Cities Can Thrive in the Age of Populism, by Bruce Katz and Jeremy Nowak. 2018.
————
I think economics may trigger some of these things. But in the end, it's a failure of spiritual and social life that drives people to suicide.
— Princeton economist Angus Deaton in an interview with the Wall Street Journal. Why 'Deaths of Despair' May Be a Warning Sign for America. February 2018
————
Americans by substantial majorities believe that their localities offer the best opportunity to find common ground regarding public challenges and opportunities…. In a Heartland Monitor poll… nearly half [of Americans] (47%) indicated they believed that the greatest progress would come from "positive actions taken by some combination of businesses, local governments, nonprofits and Americans themselves." A quarter (26%) said it would most likely result from "individuals taking action in their communities."
Since 2010, Case research has demonstrated that "with few exceptions, Millennial (are) willing and eager to 'do good.'" But rather than attempting to make things better through large organizations and institutions, Case surveys indicate that Millennials prefer to support specific issues and perform smaller actions locally, often as volunteers utilizing non-governmental channels.
— Healing American Democracy: Going Local by Mike Hais, et al
SPONSORS AND COMMITTEES
IEI would like to say a special thank you to our ReCONNECT NC Series and ReCONNECT to Community Forum Sponsors for their generosity and support. We would also like to thank the many individuals who served on our steering committee and advisory council.
Series Sponsors
Legacy
UNC-TV
Builder
Local Government Federal Credit Union (LGFCU)
Connector
Duke Energy Foundation
Education NC
Blue Cross Blue Shield of North Carolina
Cultivator
Wells Fargo
Forum Sponsors
Platinum Sponsors
Duke Endowment
UNC-TV
Gold Sponsors
Mack and Janice Pearsall
Silver Sponsors
Biltmore Farms, LLC
Bronze
First Citizens Bank
Other Forum Sponsors
Eblen Short Stop Stores
Ingles Markets
Table Sponsors
Community Foundation of Western North Carolina
Land of Sky Regional Council
Local Government Federal Credit Union
Mountain Area Workforce Development Board
University of North Carolina Asheville
Individual Sponsors
Jennie Eblen
Sarah Langer Hall and Brandon Hall
Eric Johnson
Caroline Weaver and Tony Reevy
Laura Webb, Webb Investment Services
Steering Committee Members
Ted Abernathy
Managing Partner
Economic Leadership
Carolyn Bird, PhD
Chair of the Faculty
NC State University
Pete Brunstetter
Chief Legal Officer and General Counsel
Novant Health
Jack Cecil
President
Biltmore Farms Inc.
Lew Ebert
President & CEO
NC Chamber
Natalie English
President & CEO
Wilmington Chamber of Commerce
Dan Gerlach
President
Golden LEAF Foundation
Maurice "Mo" Green
Executive Director
Z. Smith Reynolds Foundation
John Hood
President
John William Pope Foundation
Travis Mitchell
Senior Director/Chief Content Officer
UNC-TV
Jackie Olich, PhD
Senior Director of University Collaborations
RTI International
Cheryl Parquet
Director of Strategic Community Investments
Blue Cross and Blue Shield of North Carolina
Mebane Rash
CEO and Editor-in-Chief
EducationNC
Ashley Ruffin
Senior Vice President, Marketing
Local Government Federal Credit Union
Hope Williams, PhD
President
NC Independent Colleges and Universities
Marco Zárate
President & Co-Founder
NC Society of Hispanic Professionals
Forum Advisory Council Members
Brenda Berg
President and CEO
BEST NC
Mary Jo Brubaker
Governor
North Carolina Kiwanis
Melanie Chernoff
Government and Community Affairs
Red Hat
Mike Cooper
Attorney
McElwee PLLC
Caroline Farmer
Director
NC Commission on Volunteerism and Service
Atrayus Goode
President & CEO
Movement of Youth
Fay Gore
Section Chief
Department of Public Instruction, Social Studies
Eric Guckian
President and CEO
United Way of the Triangle
Nation Hahn
Chief Growth Officer
EducationNC
Crystal Imes
NETworX Yadkin Coordinator
Rural Faith Community Development Corporation
Frank McKay
Education Consultant
RTI International
Sharon Paynter
Assistant Vice Chancellor for Public Service and Community Relations
East Carolina University
Eliazar Posada
Community Engagement and Advocacy Manager
El Centro Hispano
Amy Strecker
Community Affairs Manager
Duke Energy
Jeanne Tedrow
President and CEO
NC Center for Nonprofits
Rose Williams
Associate Executive Director of Public and Government Affairs
NC League of Municipalities
Darin Waters
Special Assistant to the Chancellor for Outreach and Engagement
UNC Asheville