The Cohort Big 3 newsletter is a monthly publication to connect communities participating in the Institute for Emerging Issues ReCONNECT NC peer-learning cohorts.
Each month we will send you updates on three things we think you should know about. 
---
1. How has COVID-19 impacted you?

We're reaching out to all cohorts to learn how you are being impacted by COVID-19. We'll be continuing to reach out. We can also schedule Zoom meetings between cohorts or across cohorts. Also, please let us know if you have stories of connection, community resilience, mutual aid, and caring you want to share with us, and have us possibly share with others (with their permission).
If you want to share, please email Molly Sheehan with your answers to these questions:
1. How has your organization been impacted by COVID-19? This can be broadly or specifically cohort-related.
2. How is COVID-19 impacting the communities you work with? How are you engaging those without access to the Internet?
3. How might IEI support you during this time?
4. In general, what critical issues do you think IEI should be paying particular attention to during this time?
2. Highlighting Cohorts In the News

Several of the organizations involved in the ReCONNECT NC cohorts have been quick to act in response to COVID-19. Within the Technological Opportunity cohort, Digital Durham continues to address the homework gap, and Digital Charlotte, a member of the Charlotte Digital Inclusion Alliance team, has put together a list of Digital Inclusion Response Resources for COVID-19. Several manufacturer members of the WNC Outdoor Gear Builders, who are involved in the Growing Outdoors Partnership (Rural and Urban cohort), are shifting gears and producing personal protective equipment (PPE). Similar efforts are happening with manufacturers in Beaufort County (Economic Opportunity cohort).
In other good news, Explore Elkin (Community cohort) recently received an NC Commerce Small Town Main Street Award for Innovation for their work. Congratulations!
3. Introducing First in Future: Connecting in Crisis
IEI's podcast First in Future is currently presenting a special series called Connecting in Crisis where we explore how the state is responding to COVID-19. Each Thursday morning, IEI Director Leslie Boney hosts a virtual conversation with experts in different fields, from education to small business to faith.
Subscribe and tune in for live episodes on Zoom every Thursday at 9 a.m.!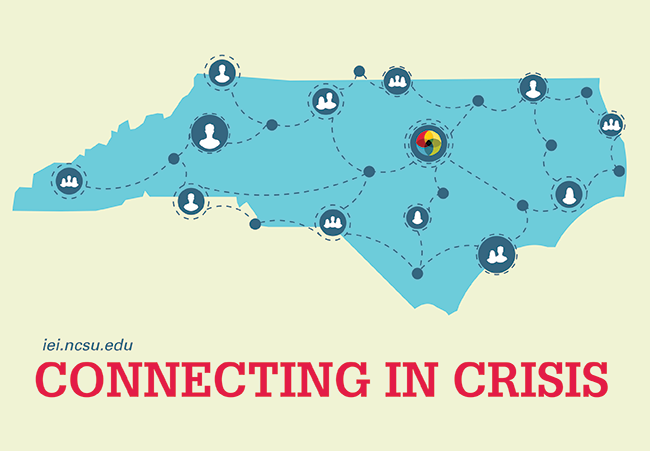 Bonus! 4. Join NCDD and NCL next week for a webinar on social distancing and public engagement
The webinar will feature Wendy Willis, Executive Director of the Deliberative Democracy Consortium, and Larry Schooler, Director of Consensus Building and Community Engagement, CD&P.  Wendy and Larry will showcase strategies for virtual public engagement in this time of social isolation.
---
We want to know how participating in the cross-community cohort is benefiting your work in big and small ways. What do you need from IEI or other cohort communities to help you achieve greater impact in your work? Click here to give your brief update.