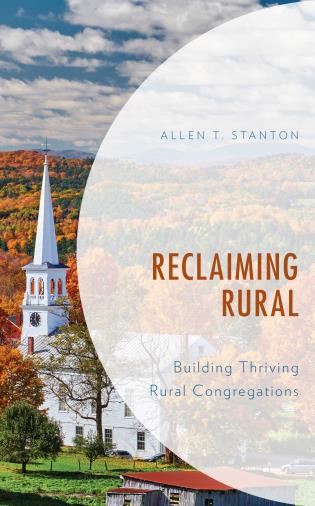 We are thrilled that IEI's former Rural Faith Program Manager, the Rev. Allen Stanton, has written his first book, Reclaiming Rural: Building Thriving Rural Congregations, released on May 15, 2021. 
Rev. Stanton helped form IEI's official Rural Faith Communities as Anchor Institutions (RFCAI) program with support from the Duke Endowment in 2015. He now is the Executive Director of the Turner Center at Martin Methodist College (soon to be University of Tennessee Southern) in Pulaski, Tenn. However, his journey with rural communities before he started with IEI, or even before he went to Duke Divinity School where he was chosen to be a Thriving Rural Communities Fellow. 
Rev. Stanton grew up in Nashville, N.C., and writes in his book how his small-membership Baptist church encouraged him to be a leader as he grew up, and to have "an active voice". Rev. Stanton reflects that those leadership opportunities aren't a guarantee for students growing up at home or at school. 
A fierce believer in the power of rural congregations, Rev. Stanton asks the reader to examine their own relationship to the word and images the term "rural" brings up before diving into what thriving means for rural congregations. 
Because these congregations often serve as a microcosm for the culture and history of the towns they're part of. In "Reclaiming Rural," Rev. Stanton talks about the two predominant narratives of rural America. 
There's the idealized small-town, where everyone knows and takes care of each other. Crime free, family-driven, agriculture havens of history and morality. 
Then there's the portrayal of constant decline—rural brain drain, ghost towns, closed factories, etc. The best days of a town, and of a church, are decades in the past. 
"It is inappropriate to portray rural communities as wholly in decline or wholly vital." Rev. Stanton shares his thoughts on his "Rural Reckoning" of the two narratives of rural communities. Faith leaders often share similar nuanced versions of their rural congregations—somewhere on the spectrum of thriving to surviving. 
As most rural congregations return to in-person worship and service opportunities, many faith leaders are taking stock of where their congregation is, and what the future will look like. Rev. Stanton, who first became a leader in his own rural congregation, encourages faith leaders to "support what we're already supporting" when thinking through what a congregation can and should be doing in the community. 
Support students and youth already in the congregation with what they care about. Ask about the organizations where lay people already work and volunteer at and ask groups how the church can support them. 
As faith communities continue a summer where more is possible than last year, external partnerships can be guided by thoughtful internal conversations about the narrative of our faith communities, the rural areas we live in, and what "thriving means". IEI invites you to learn more from Rev. Allen Stanton's research on rural congregations on Thursday, August 5 from 2- 3 p.m. You can register for the free webinar "Reclaiming Rural: A Conversation with Rev. Allen Stanton" here.