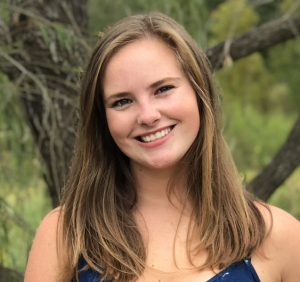 IEI is pleased to announce that NC State undergraduate Zoe Walker will serve in an exciting new role as digital inclusion intern, supporting both IEI and the Broadband Infrastructure Office this summer. The digital inclusion intern will provide administrative support for the BAND-NC grant program, which addresses the digital divide in NC.
Major: Political Science with a concentration in Public Policy
Graduation year: 2022
Hometown: Greensboro, NC
Other Activities: I'm a member of the Alpha Phi Omega service fraternity, and work with Citizen Redistricting North Carolina. In my free time, I like reading, baking, and doing yoga!
What interests you about working on the BAND-NC initiative?
Broadband access is such an important factor in working towards a more equitable society. Access to the internet impacts every part of people's lives, from healthcare to education to the ability to connect with loved ones. I'm thrilled to have the opportunity to work in an area that has such a wide impact.
What do you believe is the biggest emerging issue facing our state?
I believe the greatest emerging issue facing North Carolina is infrastructure. In urban areas, increases in population can lead to gentrification and the displacement of lower-income citizens, while in rural areas, the lack of technological infrastructure can lead to disconnect, homework gaps, and brain drain. Investing in infrastructure can help to mitigate these issues, and improve the economy and well-being of North Carolina.