The Institute for Emerging Issues (IEI) at NC State University hosted state and national higher education leaders on Sept. 24 for its first virtual meeting in the ReCONNECT to Move Forward series. "Impact on Higher Education and the Future of Work" was a 3-hour virtual gathering to discuss how colleges and universities are adapting to meet the needs of students.
The meeting opened with remarks from Davidson College president Carol Quillen. All three college system presidents were able to join the opening session to speak to the changing higher ed landscape: Peter Hans, president of the University of North Carolina system; Hope Williams, president of the North Carolina Independent Colleges and Universities; and Bill Carver, interim president of the North Carolina Community College system.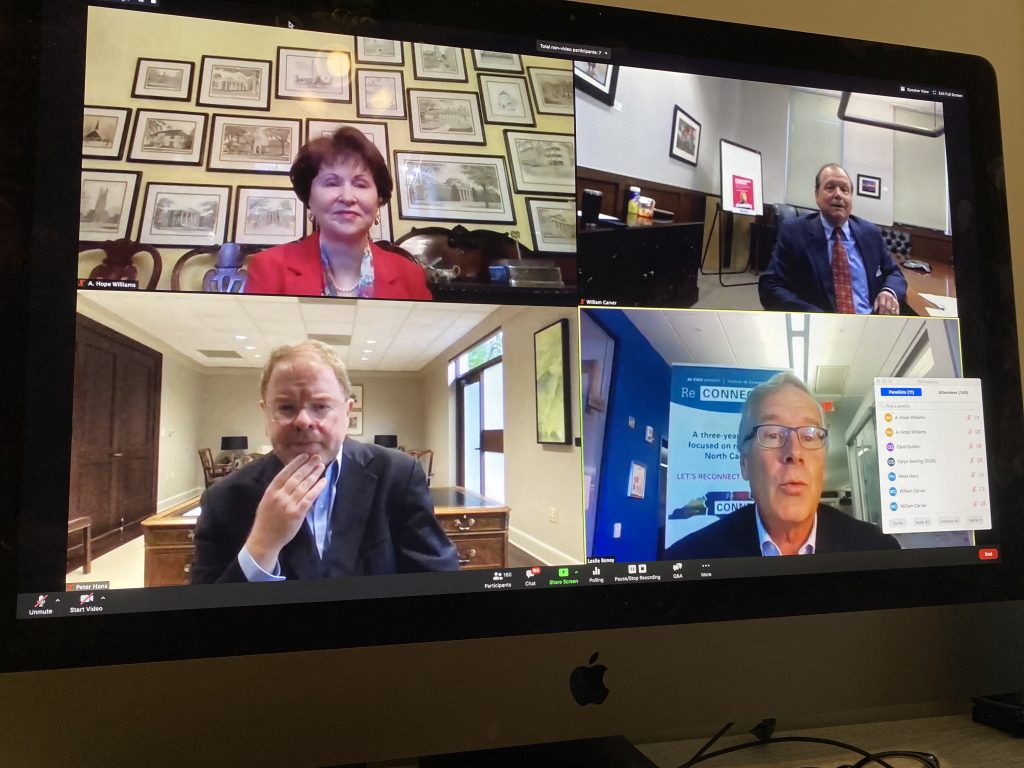 The opening session was followed by breakout sessions where participants were encouraged to engage with speakers and each other about the achievement gap, the changing role of technology, civic leadership, and an open space discussion.
Next, Leslie Garvin of NC Campus Compact led a panel with students Jason Fyle (AB Tech) and Melanie Flowers (NC State University) about their experiences.
Leaders from across the country—Kim A. Wilcox from University of California, Riverside and William Serrata from El Paso County Community College District— joined NC State's Chancellor Randy Woodson to discuss how they are adapting and innovating to narrow the achievement gap and change the institutional culture.
Finally, Kelly Young of Education Reimagined wrapped up with an inspirational vision and a call to action for the future.
Graphic recorders from Drawing Insight captured ideas and discussion from the main sessions and each breakout session.
There are still two more virtual meetings coming up in October that round out the ReCONNECT to Move Forward series. "A Digitally Inclusive North Carolina" on Oct. 15 will highlight the changing landscape of digital inclusion in the state. "Mental Health & Well-Being" on Oct. 29 will examine the increase in mental health challenges as a result of COVID-19 and how we address near-term needs while building support systems to thrive in a post-pandemic world.
Learn more and register for one or both of the meetings here. Scholarships are also available if cost is a barrier for attendance.