When the Institute for Emerging Issues was faced with the most important emerging issue of our time, they did what they do best: gathered people together. 
But convening looks very different in a time of social distancing and stay-at-home orders. Instead of gathering in a convention center, IEI is bringing people together virtually.
Each Thursday morning, IEI Director Leslie Boney hosts a virtual conversation with experts in different fields, from education to small business to faith. They discuss the impacts of the crisis on North Carolina and how some in the state are responding. 
"Since 1986, the Institute for Emerging Issues has been bringing North Carolinians together to learn about and move forward critical issues that are emerging across our state," said Boney. "Today, we're facing one of the biggest emerging issues for at least a generation, and this program is a response to that."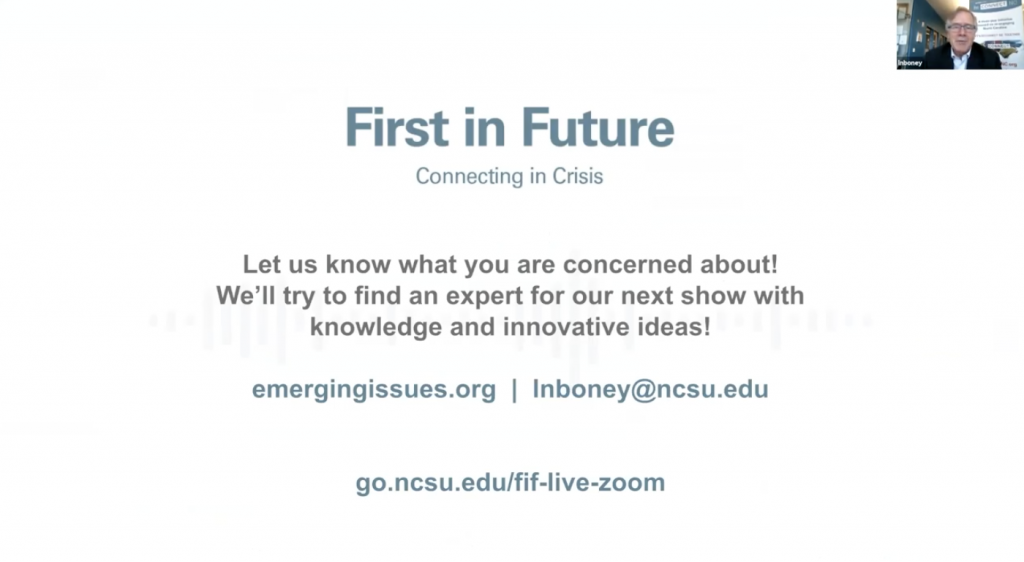 The new series is a way of highlighting some of the "bright spots" in a dark time—the community members stepping up, the creative problem-solving, and the new resources becoming available.
Each episode is broadcast live on Zoom and Facebook, where attendees can use the chat features to share ideas and ask questions. Audio and video recordings of the episodes are produced and shared afterward for anyone who wasn't able to attend live.
Around 150 participants have tuned in live each week.
Trying Something New
The first episode of Connecting in Crisis aired on March 19, bringing three minds from three sectors together for initial responses to the burgeoning pandemic.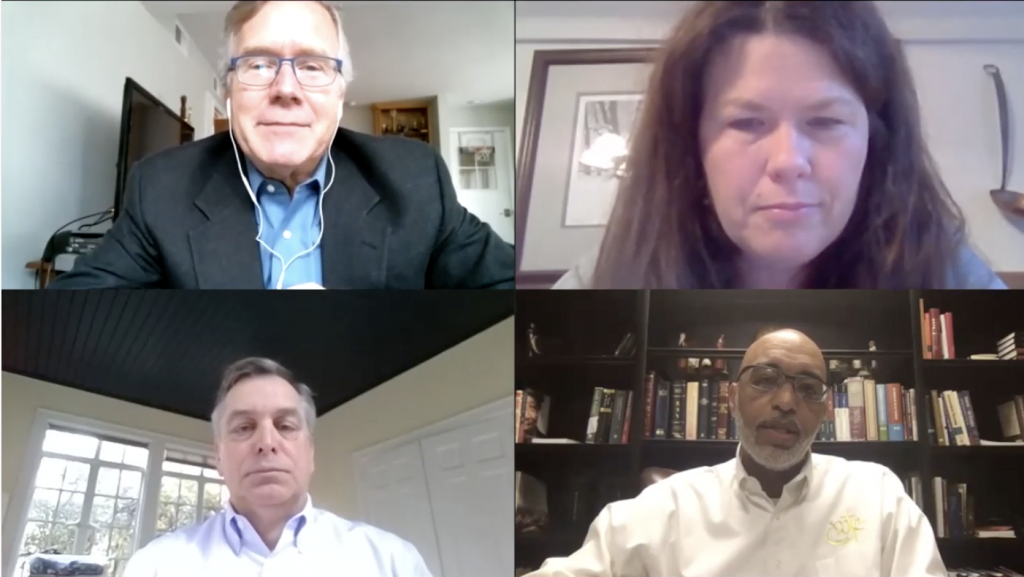 Jeff Sural of the Broadband Infrastructure Office, Mebane Rash of Education NC, and Rev. James Gailliard of Word Tabernacle Church shared some of the best or most innovative ideas they had heard of.
Sural referenced the Broadband Infrastructure Office's resource to help get people connected to free or low-cost broadband services at ncbroadband.gov. "If you don't have internet access, stay close to the best means of communication you have," he said, mentioning teachers, libraries, and faith institutions.
Rash lifted up a number of resources for educators and parents related to online learning and food and internet access. She also mentioned reaching out to Education NC as a resource: "There is no road map for this. We want to serve you and need to know what you need." 
Rev. Gailliard spoke about the ways his church had shifted their services and ministries to keep their congregation safe. He recommended that churches continue to interact with their congregations in new ways—writing letters, checking in on seniors, running errands for people. "This is a unique opportunity to truly be the church, albeit with adjustments," he said.
The Learning Dilemma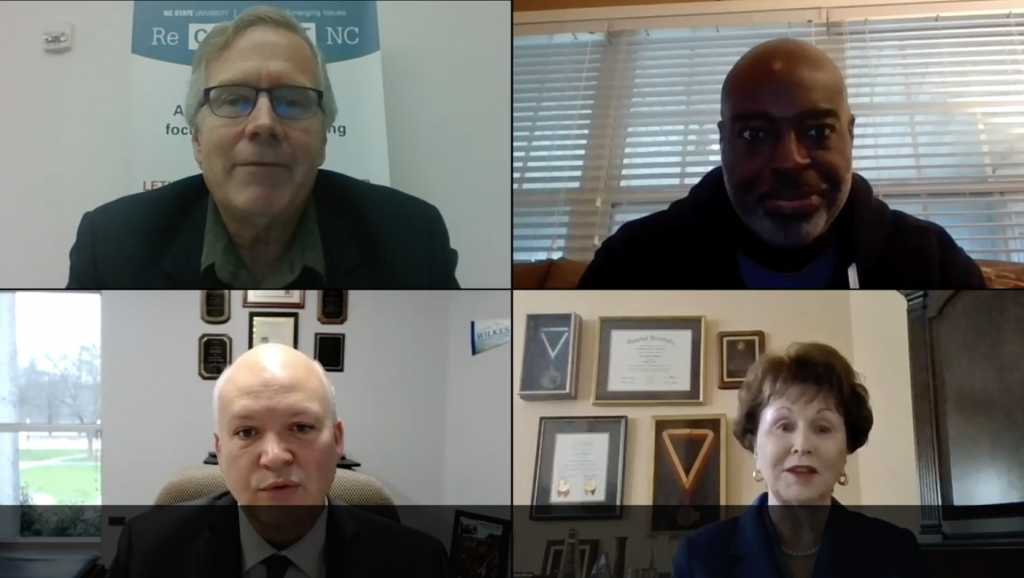 For the second episode focused on education, Boney brought on guests Keith Sutton (chair of Wake County Public School System school board), Jeff Cox (president of Wilkes Community College), and Hope Williams (president of North Carolina Independent Colleges and Universities) to explore how schools at the K-12, community college, and university level were adapting to a learning system that went online almost overnight. 
Sutton explained how Wake County had mobilized to continue providing meals to students and their families and were assessing internet and device needs to get every student online.
Cox addressed the complexity of the issue at the community college level, where there are many students who need hands-on training to complete their courses (such as public health and technical fields). He was hopeful that the majority of the students would finish the spring semester and was inspired by the resilience of faculty and staff.
Williams echoed Cox's concerns about the issue's complexity—of course universities wanted to send students home to keep them safe, but what about those students whose homes were in Italy or New York? Williams also expressed gratitude for the internet connectivity backbone in place at all the independent schools, and said they were working with community partners to get connectivity for everyone at home.
Staying Afloat as a Small Business
Small business was the focus of the third episode, with guests Kevin Price (President/CEO of The Institute NC), Kit Cramer (President/CEO of Asheville Area Chamber of Commerce), State Rep. Stephen Ross (R-Alamance) and State Sen. Jay Chaudhuri (D-Wake). 
Small businesses employ nearly half of the people in North Carolina. Based on a national study, 193,000 people were unemployed or furloughed in the state by March 21. 
The guests discussed through their different lenses how they had seen small businesses in the state affected. Many were struggling to stay afloat, said Price, and also grappling with the influx of information and resources out there. 
Cramer mentioned many businesses in western NC adapting to serve new needs brought on by the crisis, such as manufacturers creating PPE for health care workers: "They're adapting existing equipment… which is helping provide support for our health care community but also keeping people employed." 
The state legislators validated that their constituents were sharing similar concerns, and both expressed hope in continued bipartisan effort to address the issues.
To Learn More
Visit the First in Future podcast page to access previous episodes of First in Future: Connecting in Crisis.