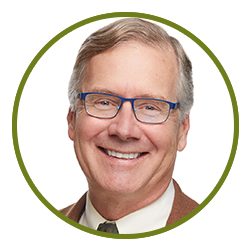 Lifting Up the Laboratories of Democracy
The past twenty years have given all of us a steady set of reminders of what it means to live interconnected and interdependent in a global world. The past twenty weeks have given all of us an intense appreciation of what it means to think and act and live truly local. We've gotten to know our nearest parks, our neighborhood grocery store and every nook and cranny of our homes with a new degree of familiarity – we've learned where that owl's nest is five minutes into the walk, what day the toilet paper comes in to the store. And that crack in the wall of our kitchen that we could ignore PC (pre-COVID-19) now screams at us every day.
The pandemic has also been a reminder to us of the power of our local communities to come together and get things done. We've heard the stories of teachers not waiting for funding to wind its way down from Washington, but finding laptops for students who couldn't do their homework online; we've watched companies not waiting for a state mandate to convert from printing paper to making masks. We've felt the power of protest not on TV, but in our hometowns. We're not waiting for a government program to serve our elderly neighbors who can't go to a store; we're shopping for them.
Our local focus may have gotten more intense during this time of pandemic, but it's a trend that has been taking root for some time. Heartland Monitor surveys starting in 2015 show that 69% of people believe they can make more progress on "new ideas and solutions for the biggest economic and social challenge facing America" from state and local business, government or community organizations than via national institutions (22%). The finding holds across party lines as well. Among 2016 voters, nearly three-quarters of those voting for Clinton and two-thirds of those voting for Trump thought that actions by local institutions or individuals were most likely to generate change. The feeling is particularly strong, according to studies by the Case Foundation, among millennials and younger people. But it's more than a feeling: in their findings of their "100,000 mile journey into the heart of America," James and Deb Fallows found that one of the characteristics of successful communities was that "people work together on practical possibilities, rather than allowing bitter disagreements about national politics to keep them apart."
A belief in the power and energy of local efforts is one of the bedrock ideas of IEI's ReCONNECT NC  and Rural Faith Communities as Anchor Institutions (RFCAI) efforts. For ReCONNECT NC, for each of the 5 topics we've worked on, we've identified at least 5 communities that are already at work on the issue, where diverse coalitions of energetic, committed local people doing inspiring work that proves that progress can be made. For RFCAI, we've been working with energetic pastors and congregations across the state who are recognizing their institution's "anchoring" role in their communities and are interested in playing a part in addressing some of the bigger challenges they are facing locally.
Our work at IEI has been to connect these communities and congregations to experts who can help them identify challenges, broaden coalitions, focus their work and connect with each other and others across the state to do more effective work. Our hope is that over time they can spread a kind of good infection to the communities next door, a proof of concept that something can be done and, realizing that each community's assets and energy will be slightly different, at least the outlines of a road map that roughs out how to get started.
This month we're launching a new effort, drawing on the support of The Duke Endowment and the Local Government Federal Credit Union, inviting the ReCONNECT communities and dozens of members of local faith communities to learn more about adaptive leadership in time of change, collective impact, building more diverse coalitions, storytelling, economic resiliency and other key topics in what we are calling, simply, "Summer School." IEI's Greg Hedgepeth, Darryl Lester and John Parker will join others like master storyteller Jeff Polish and community impact expert Laura Clark to brainstorm about how to convert this impulse we have toward localism into a habit and get better at solving our biggest economic and social challenges with local energy and ideas.
None of this is to dismiss the power, capacity and indispensability of federal and state government providing support to help us navigate the financial, social and health challenges we are facing. It's more an acknowledgement of the power of local to do the essential blocking and tackling we need in real time.
In their 2018 small book, Healing American Democracy: Going Local, Mike Hais, Doug Ross and Morley Windgrad called loudly for a new recognition of this power. And while you may not agree with their specific recommendations, they make a compelling case for mayors, local elected officials and other local authorities to step up and embrace their role as "the new laboratories of democracy." They urge communities to form networks to share great ideas with each other, intentionally and often. And they call on all of us to "dramatically increase" our participation in local government and community efforts. We can still "think global," but this is a great time to remember the power of "acting local."