Cleveland County, like many other counties in North Carolina, is dealing with the problem of the skills gap: a large number of skilled jobs available, but few workers with the skills to take those jobs. Instead, thousands in the workforce in Cleveland County are underemployed in full-time jobs that don't pay a living wage.
Enter Accelerate Cleveland.
The Accelerate Cleveland County training program prepares participants for a career in the growing manufacturing industry. Trainees are compensated while they complete classroom and hands-on training. After the seven-week program, they're ready to start a career with one of Cleveland County's major manufacturers.
The first graduating class of the program celebrated their successes at a ceremony in July. All seven participants were offered jobs—and some received multiple job offers.
Hugh Sandoe, the optimization coordinator with Cleveland County, described the situation of one of the recent grads.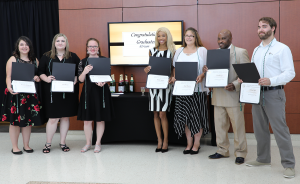 "Katherine was working at Dollar General. She had no opportunity for advancement, and she was trying to provide for her two-year-old twins," said Sandoe. "After completion of the program, she received three job offers for full-time employment with benefits, making more than double the salary that she had coming into the class."
Angel Heston, another recent graduate, also entered the program in order to better provide for her family. She was drawn to the manufacturing industry because she considered herself technically and mechanically inclined.
"This is my way of showing off the skills I have and also a way to get higher up in the workforce and make a little bit more money so I can take care of my child," said Heston.
She found that completing the program helped make her a more competitive hire.
"You're going into the workforce with some documented experience and skills and education that you can use in that field in order to make a career out of it," she said.
Kelly Smith, another graduate of Accelerate Cleveland, accepted a position as a production technician. She said that while the program was challenging, it was worth it to come out of it with certification to get a higher-paying job. She was also encouraged that the county (along with industry partners) invested in its residents.
"The fact that the Accelerate Cleveland program paid us to complete this program just shows that they're invested in this county, they're invested and they care about this county," said Smith.
Learn more about Accelerate Cleveland during the Institute for Emerging Issue's ReCONNECT to Economic Opportunity forum on October 15 in Charlotte.