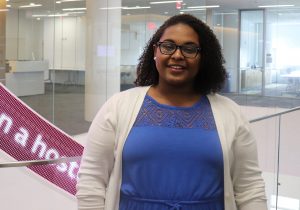 Hallo! Mein name ist Alexis Landrum und ich habe für acht jahre Deutsch studiert.  It's understandable if that didn't make sense, most people don't speak German in America. However, I had the privilege of going to one of the few Language Academies in North Carolina, so I've been studying German since I was in kindergarten. So, now I'll say it in English: Hello! My name is Alexis Landrum and I studied German for eight years.
As I look back at my experience, I am deeply appreciative for my opportunity to attend Smith Academy of International Languages, where I studied abroad at an early age, and was able to speak another language fluently by the time I was 13. The benefits of my bilingual education are endless. I am both receptive to different cultures and have come to understand how different cultures can influence thought.
Now, after completing a German minor along with my Communication and International Studies majors at the University of North Carolina at Wilmington, I not only can search for jobs in North Carolina, but Germany and Austria as well. My ability to speak another language has only created more opportunity for me. My bilingual education was an unforgettable experience that has opened a plethora of doors, and I only hope that more students are afforded the same opportunity.
However, according to the American Federation of Teachers bilingual education in the United States is decreasing in public schools across the nation. Although it has been shown that bilingualism increases cognitive development, control skills and flexibility in thought process, school systems are still getting rid of bilingual education due to the fear of students not being well trained in English.
Nevertheless, the decision to revoke bilingual education contrasts research done that shows bilingualism not only has intellectual and cultural advantages but has been linked to higher cognitive skills such as better memory and greater awareness of the structure of language. On top of the academic and cognitive advantages, the benefits of bilingualism include economic and personal benefits for students who speak another language. Those benefits include higher pay, deeper appreciation for other cultures, and an increased skillset. The same study also shows that adults and students who are fluent in another language have more job opportunity and higher annual earnings due to their bilingualism.
Given that information and a need for an inclusive education for her child, my mother's decision to place me at the public magnet school Smith Academy of International Languages in Charlotte was an intentional one. SAIL language choices for students entering kindergarten were German, French, Chinese and Japanese. The decision of which language I would take rested solely on the shoulders of my mother, since I was four at the time, and she decided that German would be the best option. She lived in Hamburg, Germany, for a period, and also for her appreciation of the culture. Therefore, from kindergarten to eighth grade, I received a bilingual education.
As a student at Smith Academy, class times were split between speaking and reading in entirely German or English, depending on the time of day. The switching back and forth allowed us to see the similarities in the languages and how they interconnected and stemmed from one another, while also making us flexible in comprehending both languages. We also studied the histories of America and Germany to ensure we were gaining cultural understandings of two very different places. Those experiences in the classroom paired with meeting people from all over the world has made me appreciate my school. My education was more than comprehensive, it was well-rounded, engaging and allowed me to explore other cultures and ways of thinking. I was able to see the world from a different lens while also gaining experience and understanding from somewhere new.
The world continues to become more globalized, and as we move forward and the need to experience and connect with different cultures will become more necessary. A bilingual education is a means to ensure future students are prepared for those experiences and can succeed in a globalized environment and economy. Reconnecting North Carolina to economic and workforce opportunities is also a part of ReCONNECT NC, IEI's new three-year initiative that aims to help North Carolina reconnect civically, socially and economically.
As we ensure that we are connecting with one another and sharing experiences we only serve to create a more interconnected community that strives to push everyone forward, together.
— Alexis Landrum is a Marian Drane Graham Scholar interning at the Institute for Emerging Issues in the communications department for the summer.