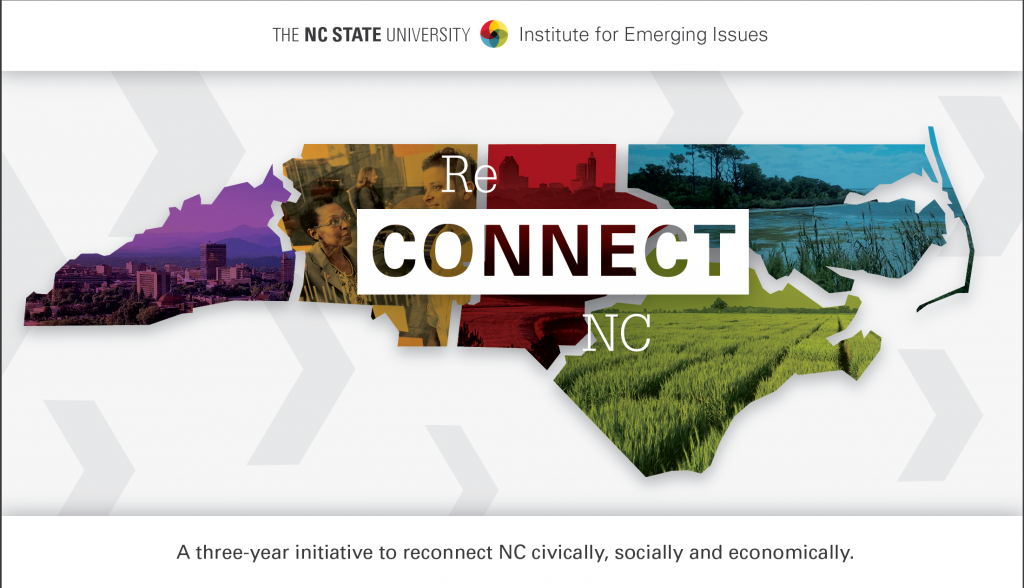 If you've been following along with us, you've noted that there are a few things different about the upcoming Emerging Issues Forum ReCONNECT to Community. For the first time,  we're having the forum in the fall, outside of Raleigh and the forum kicks off ReCONNECT NC, a three-year initiative that will include six forums around the state each focusing on a different aspect of civic, social and economic reconnection in North Carolina.
These ReCONNECT NC forums will be smaller and more interactive than Emerging Issues Forums of the past, which were typically held every February in Raleigh about a different social topic affecting the state. Past forums have examined topics like the economic effects of early childhood development and the future of work.
So, why is IEI innovating our forum structure NOW?
Because that state is changing and the way public policy develops is changing. And we need to change too.
"We're evolving as an organization. This structure allows us to better connect to people all across the state. It's really easy to be in an office in Raleigh. We need to understand the perspective of people across North Carolina," said Maggie Woods, IEI policy and program manager, who's serving as the lead organizer on the ReCONNECT to Community forum.
IEI Director Leslie Boney notes that much about Emerging Issues Forums hasn't changed. "At each forum, you are still going to get a thoughtful, evidence-based approach to a topic that is critical to our state's future. And you'll still leave each forum inspired with actionable ideas you can use in your community. We will still have a forum each February in Raleigh. But we are extending the forum to some new places," Boney said.
Those new places include Asheville, Charlotte and Greenville, as IEI works to bring our message of reconnection to as many North Carolinians as possible.
"There's no real substitute for what happens when you join someone at their place and start to brainstorm a solution together. You read each other's faces; you pick up on an idea and move it around a little bit; you ask the follow up question. And once you get to some point of common understanding, you have a chance to come up with a new idea, a new approach," Boney said.
Another new feature with the ReCONNECT NC series of forums are the five communities we'll feature at each forum that will give real world examples of how their communities are dealing with the topic being discussed. For the ReCONNECT to Community forum, Asheville City Schools Foundation, Edgecombe County-based Rural Opportunity Institute, Elizabeth City's One Team. One Goal. One Community, Explore Elkin and the Thomas S. Kenan Institute for the Arts in Winston-Salem will share how they're working to increase civic engagement in their communities.
"We believe when it comes time to solving big challenges in a community, it's easiest if you can see that someone else who looks like you—has a similar size or has similar assets— and is making progress.That reminds you that you aren't alone, and shows you that something can be done. Even if the solutions or approaches aren't exactly the same, the message is the same—we can do something to make our communities better," Boney said.
So, why don't YOU join us and come see how we're innovating the time-honored tradition of the Emerging Issues Forum to make ALL of North Carolina's communities stronger.
Registration for the ReCONNECT to Community forum ends Nov. 2.