This summer, the Institute for Emerging Issues is hosting two summer interns, Alexis Landrum from the Marian Drane Scholars Program and Haley Boram from the Z. Smith Reynolds Foundation.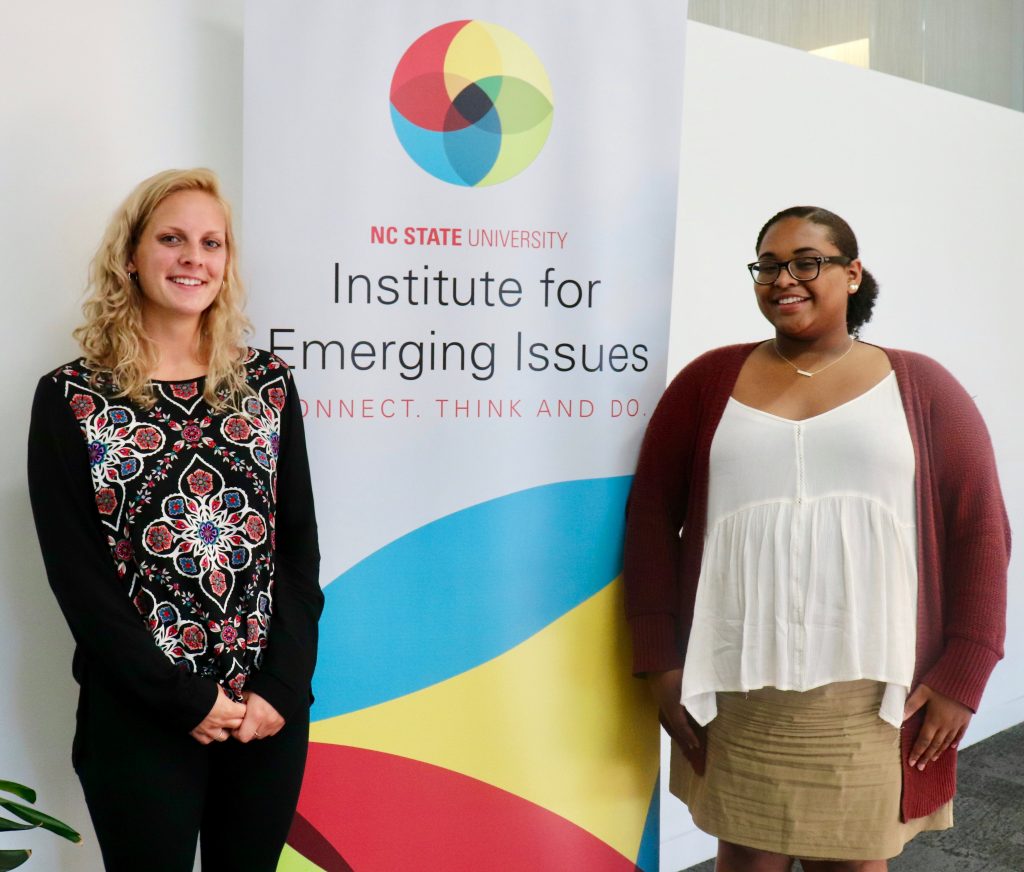 Haley Boram, born and raised in Asheville, is a rising senior at UNC Charlotte double majoring in political science and economics. She is working with several IEI policy managers, as well as Paul Nolan, an AmeriCorps Vista member heading IEI's Tech, Talk, Future program. She is currently tackling several projects at once, including an engagement index that allows communities to measure their civic engagement, the expansion of Tech, Talk, Future, and IEI's upcoming "ReCONNECT to Community" forum, taking place in Asheville  Sept 17.
The other summer intern . . . is me! I'm Alexis Landrum, born and raised in Charlotte and currently a rising senior at UNCW double majoring in communication and international studies. I have the pleasure of working with IEI's Communication Team, writing blog posts and news stories for the IEI website, helping manage social media accounts, and working on graphics and photo projects. My time at IEI has allowed me to connect with several people doing amazing work in North Carolina.
Although we are working in different departments at IEI, Haley and I both have a passion for public service in North Carolina. Once she graduates, Haley hopes to work in the nonprofit sector, and envisions becoming an executive director of an organization such as Girls on the Run. As for me, I'm looking to use my IEI (and other nonprofit experience) as a foundation to work in local or state government, where I hope I can create lasting change on both the local and state level.
Outside of work, Haley is super passionate about yoga and running, both which allow her time for self reflection. I am a huge reader. I love to find a book about someone's life story and escape into a different reality.
Haley and I both see IEI as an organization which promotes change for the better, and acts as a bridge for connectedness across North Carolina. IEI allows North Carolinians to work collaboratively on issues that are important to them, and then move forward as communities—together. Haley and I are proud to work with the IEI team, and even after our internships end, we look forward to hearing about the amazing work IEI will continue to do throughout the state.
— Alexis Landrum is a Marian Drane Graham Scholar interning at the Institute for Emerging Issues in the communications department for the summer.