If you're a native North Carolinian like me, hurricanes punctuate the timeline of your community's history.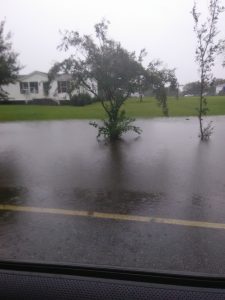 This is especially true of native eastern North Carolinians (like me), who'll often reference biological events, both personal and familial, in relation to when and where the BIG ONES made landfall.
"Remember when Cousin Curtis got married? You know, the year that Hurricane Fran came through."
"Let's see, that was the year of Hurricane Hazel, so grandmama must have been about 10."
Hurricanes are as much a part of North Carolina's landscape as pine trees, and as much devastation as they deliver, I'm often proudest to call myself a Tar Heel whenever one comes through.
Because it is during these times that I see true North Carolina heroes, and they're not always who you'd expect. Often, they're everyday people like you and me, who help their neighbors, how they can, when and where they can.
The Institute for Emerging Issues is asking our partners and followers to tell us about your #FloHeroes—people you saw during the storm who stood up and made a difference for their communities, no matter how big or small. We'll share your stories, pictures and videos online. Submit them to our Facebook page by first clicking "Posts" in the lefthand side of the page.
But first, I want to tell you about a few #FloHeroes I saw during Hurricane Florence in my small Harnett County community.
.————————————————————————————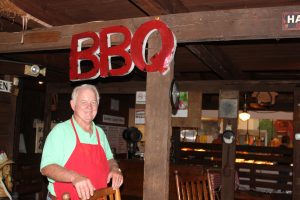 Ron Jenkins
Owner, Ron's Barn
A sight for sore eyes after the storm were the lights at Ron's Barn, a well-known (and awesome) barbecue joint near my home in Harnett County. Like many businesses, the restaurant opened for special hours over this past weekend, knowing they wouldn't make much of a profit, but wanting to be a place of comfort for their loyal clientele. "It's not really about the money, it's about being there for your customer," said Ron Jenkins, who's owned the restaurant since 1991. Jenkins, a native of New Bern, N.C., was glad to help his community how he could, knowing firsthand the emotional, as well as physical, toll hurricanes take. "You don't get used to them, you get through them," he said.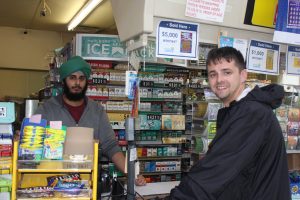 Noah Clayton
Wilmington volunteer
Later that day, I met Noah Clayton as he stopped for gas at a gas station just off I-95. The 23-year-old was headed back to Wilmington after evacuating. He hoped that as a former firefighter he could help with rescue efforts in the coastal city. He spoke to me about the reams of work trucks with Louisiana tags that were traveling east on the interstate, headed to help with recovery efforts. These people, who didn't have to come to North Carolina to help, but chose to, are also #FloHeroes.
———————————————————————————————–
Community, in general
The bonds of community—which we'll be discussing at our upcoming "ReCONNECT to Community" forum, stay tuned for the reschedule date!—are tested during a storm, and I was reminded of their importance during Florence, especially the virtues that build a community, such as  . . . patience.
All of us had to be patient and wait, both for the storm (described across the Internet as being "stalked by a turtle") and then afterwards as we waited for power and lights to turn back on. And a funny thing happened as I waited: Without power I, and those around me, turned to slower projects that we'd been ignoring. I finished an essay that I'd been meaning to write. My cousin cleaned her entire two-story house. My Uncle Al finished off two of my aunt's "Chicken Soup for the Soul" books (and though he's not so sure this is a victory, I see it as one). Building community takes patience—sitting down and thinking about the long term. We all should do more of this, not just when storms roll through.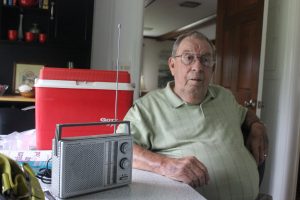 Talking to your neighbors
During the storm, the tenants at my building spent hours sharing knowledge about the community with each other. For some of us, these were the first major conversations we had with each other. With power out, we HAD to talk to each other about what roads were closed and what stores still had bread and what rivers were flooding. Talking to each other is important in building a community, as well as building trust—something too few of us do these days, since we don't have to as much as our ancestors did. With Google Maps, 500 T.V. channels and smart phones always at the ready, who needs to ask a person for help? Well, all of us, if we want to actually connect with each other and not just the Internet.
Notice a trend here: Talking to people is like really, really important in building community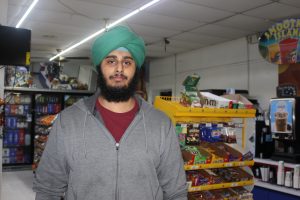 Harman Gill, 20, had to step away from the computer during the storm. After working at his family's Johnston County gas station all day, he typically doesn't want to talk to his family after work, but the Florence-caused lack of power brought him out of his bedroom, where he's often playing video games at night and into his family's living room, where he sat talking with his parents, listening to stories of their native India, which Gill last saw as a child. Gill's family moved to North Carolina from Los Angeles two years ago and he has been impressed with the way North Carolinians are so community-minded. And that's especially important during a hurricane, he said.
"It helps keep everything together if you have a community behind you. You have people that have your back, people you trust," Gill said. "If you're going to walk through the dark, you're going to have someone with you."
Now, you've heard about my #FloHeroes, so share yours! Go to IEI's facebook page and post pictures, videos and words that describe heroes you saw during and after the storm. Help us show what North Carolina communities are made of! To post on our facebook page, click on "posts" on the main page's lefthand menu.
–Beth Hatcher