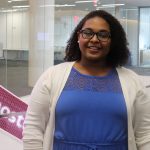 Hi, I'm Alexis Landrum, a Marian Drane Graham Scholar interning at the Institute of Emerging Issues in the communications department. The Marian Drane scholar program intends to place accomplished students from UNC system schools in the field of public service. The internship is anticipated to expose the chosen students to the range of public service opportunities, while providing insight into potential fields that surround the respective intern's interest, and the showing the intern how such organizations are helping North Carolinians.
As a rising senior at the University of North Carolina at Wilmington, I have always been confident in my decision to double major in communication studies and international studies. The idea seemed bulletproof when I was speaking to my university advisor freshman year because it was everything I loved in two separate majors. However, now as I approach graduation, I still haven't found the direct path to what I want to do.
So, when I received my acceptance letter to the Marian Drane Graham Scholar Program as well as an email saying that I would be placed at the Institute for Emerging Issues, I was more than interested. The IEI website was a rabbit hole of interesting information into which I willingly fell. Their initiatives such as Text, Talk, Future, KidsReadyNC and ReCONNECT NC all showed a dedication to public service and a deep passion for North Carolina.
Now that I'm here, I have seen the commitment of a dedicated team of individuals working to make North Carolina the best state it can be. Everyone in the office of IEI is willing to Connect, Think and Do with North Carolinians so that they can grow as connected and actively engaged citizens, and I am ready to assist in any way that I can.
As I look forward to my time with the IEI, I also take the time to look back, and as I do, I realize I have absolutely no idea where all the time went. Somehow, kindergarten through eighth grade at my International Language Academy and graduating from Charlotte Country Day School, just flew by. Studying abroad in Germany, going on my high school trip to South Africa, and seeing the Eiffel Tower in person seems to have happened yesterday, even though it's been years since then.
Although I am not 100 percent on where the time went, or what I want to do after college, I know that I want to be as dedicated to whatever I choose to do as the IEI team is to their work. I have always loved the field of communication and working at IEI on social media, graphics and news stories has only provided more insight as to how I can narrow my options within the communications field. As I gain more experience and work alongside those who do what they love, I know that as I continue to work at IEI, I can find my own path.
— Alexis Landrum is a Marian Drane Graham Scholar interning at the Institute for Emerging Issues in the communications department for the summer.