First in Future: Where Emerging Ideas Take Flight is a podcast of the Institute for Emerging Issues (IEI) at NC State University that connects you with people thinking big thoughts about the future of North Carolina. Each week, we talk with business leaders, elected officials, researchers, people working bottom up and top down to make North Carolina great. We hope you'll use their thinking to jumpstart your thinking about our state—where it is and where we might go together.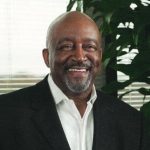 This week, IEI Director Leslie Boney revisits a conversation with Abdul Rasheed, CEO of the William C. Friday Fellowship for Human Relations, as IEI continues a greater dialogue on what it takes to keep North Carolinians civically engaged. IEI Program and Policy manager Maggie Woods adds her insights at the podcast's end.
This installment was part of a special 13-segment series produced in collaboration with UNC-TV, and recorded in UNC-TV's Legislative Studio in downtown Raleigh. IEI is excited to share the First in Future podcast via traditional means and via taped segments to air on the North Carolina Channel! Visit www.ncchannel.org/schedule/ for specific air dates.