For the upcoming ReCONNECT to Community forum, Nov. 27 in Asheville, the Institute for Emerging Issues has chosen five community initiatives throughout North Carolina that will share with our forum audience how they're working to increase civic engagement in their communities. Here, we profile One Team. One Goal. One Community—an Elizabeth City State University initiative to become more connected to the college's northeastern North Carolina community.
A university's business is the future; That future can't be reached without the support of the community.
This understanding and the desire to help ignite lagging civic engagement in an often neglected portion of North Carolina led to the creation of the One Team. One Goal. One Community, an initiative at Elizabeth City State University and one of the five community initiatives that will be highlighted at the Institute for Emerging Issues upcoming ReCONNECT to Community forum, being held Nov. 27 in Asheville.
"How do we become a better part of the community? How do we become a better resource?" Those were the questions that prompted the initiative's formation, said Russ Haddad, ECSU's director of community and economic engagement.
The initiative, which promotes volunteerism and engagement of ESCU students in the community, was founded two years ago, an offshoot of the university's One CaUSE: Community and University Social Engagement plan.
Founded in 1891 as an historically Black college (HBU), ESCU is situated in Elizabeth City, a part of North Carolina closer to Virginia than Raleigh. Often overlooked, the area has been plagued by persistent poverty and the lingering effects of once-strict racial segregation.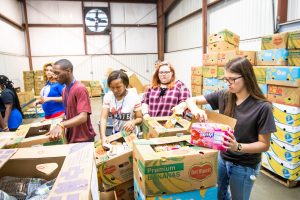 Currently, through the One Team initiative, ECSU students volunteer with local branches of organizations like the Food Bank, Salvation Army and Habitat for Humanity. Their services add not only extra sets of hands to projects, but add to ECSU's presence in the community, a presence that has not always been as strong as it could be, Haddad said.
"There's a thirst to be part of a program that helps us improve our relationships in the community," Haddad said. Like many HBUs, ECSU has built a somewhat insular culture, both out of necessity and protection, during a history that has included the violence-plagued Reconstruction Era, Jim Crow segregation and the turbulent Civil Rights movement.
In the 21st century, it's time for that to change, Haddad said.
"We've got to grow together," Haddad said of the university and the community. Creating a greater presence in the community will help ECSU be seen as the entire community's college, which in turn, will help ECSU reach its full potential as an economic driver and innovator of the region.
"The students bring so much to a community in terms of business and profit," said Emmanuel Butts, an ECSU junior and a participant in the One Team initiative. He enjoys giving back to the community by volunteering with the initiative and is excited by the One Team initiative's plans to create a Big Sister/ Big Brother program.
Haddad also hopes that in the future the initiative can become a greater part of the Elizabeth City area's discussion on civic engagement and help create a cohesive community in which everyone can succeed.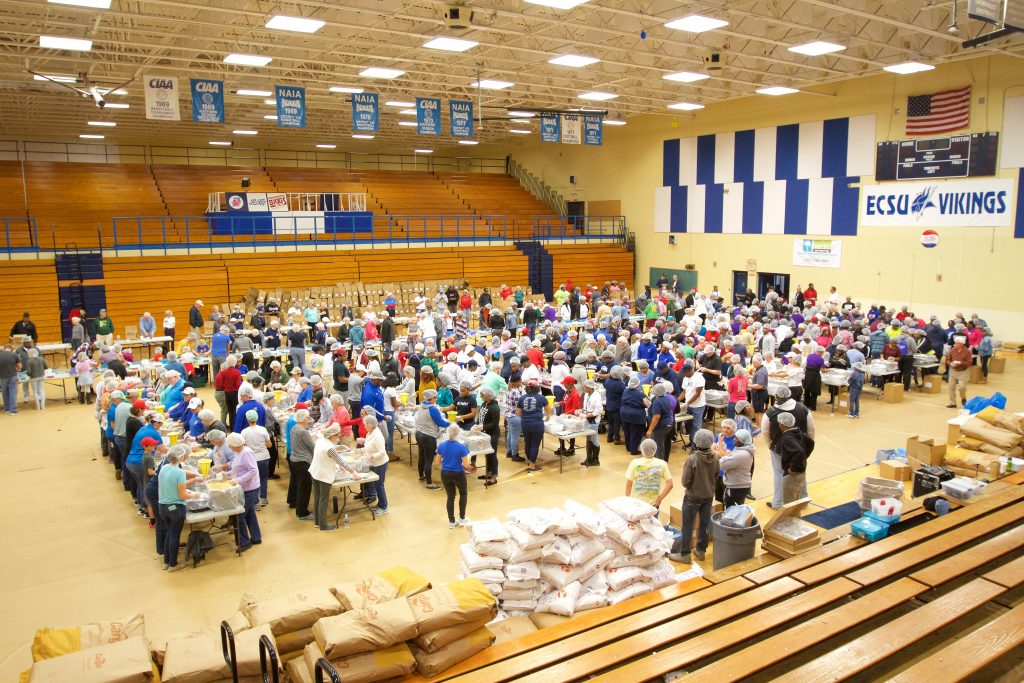 "We could have the next Bill Gates for all we know in our community, but we're not giving them the environment to develop that," Haddad said.
Participating in the ReCONNECT to Community forum will help the One Team initiative with "finding out what our commonalities with other communities are," Haddad said. An attendee at previous Emerging Issues Forums, Haddad is excited to add an Elizabeth City voice to IEI's discussion on civic engagement.
To learn more about the ReCONNECT to Community forum, visit emergingissues.org.
–Beth Hatcher