The Institute for Emerging Issues ReCONNECT NC Initiative kicks off Sept. 17, in Asheville, with the "ReCONNECT to Community" civic engagement forum.  In conjunction with the launch of this new forum series, IEI developed an online tool, ReCONNECT County Snapshots, that we hope inspires conversations about reconnection across North Carolina.
ReCONNECT County Snapshot is a web-based tool that attempts to give people from each of North Carolina's 100 counties a "snapshot" of where they stand in several key areas of "connection": civic engagement, rural-urban connections, economic opportunity, health, and technology. Each category relates to one of the areas ReCONNECT NC will focus on, and each has at least one metric that serves as a proxy indicator of connectedness.
IEI Program and Policy Manager Alicia James, IEI AmeriCorps VISTA Paul Nolan, and IEI Summer Intern Haley Boram, worked to create the tool. 
"It is a conversation starter," James said. "Selected categories and metrics illustrate one way of defining connectedness. There are many more, and we hope Snapshots helps people talk about how to maintain assets and address challenges that impact opportunities for re-connection."
Nolan, largely responsible for the design of Snapshots, chose a radar map for tool's data display specifically because of how it visually represented data connection on several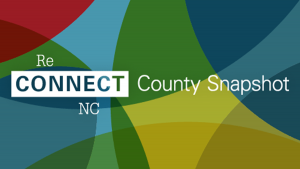 different levels.
"A radar map implies a degree of interdependency," Nolan said.
Haley Boram, now back at UNC-Charlotte, spoke about working on the project: "The most rewarding part was seeing the radar chart come together and the data collection turn into a visual aid,"Boram said.
See the tool for yourself at emergingissues.org/countysnapshot.