In a society some feel is more disconnected than ever, one national service organization has been building bridges across the country, helping individuals and communities work together toward a healthier, more cohesive future since 1994: AmeriCorps.
March 11-18 marks AmeriCorps week, a week meant to recognize the people and programs who "Get Things Done" at thousands of locations across the country. AmeriCorps, which is run through the Corporation for National and Community Service, is a network of national service programs that work to improve community infrastructure and foster civic engagement. Members commit their time to addressing critical community needs like increasing academic achievement, mentoring youth, fighting poverty, sustaining national parks, preparing for disasters and more.
For many AmeriCorps members, their time in service is as much about building bridges in their own lives as it is in the communities they serve.
Currently, 85,000 AmeriCorps members serve at sites throughout the country; 1,200 serve in North Carolina alone.
Hetal Patel is one of them.
On a cold, rainy day in Reidsville, a small Rockingham County town about an hour and a half northwest of Raleigh, Patel's disposition is bright and sunny as she talks excitedly about the work she's doing with the Reidsville Area Foundation on poverty and race equity issues. Patel serves as an AmeriCorps VISTA through the Institute for Emerging Issues's Service Year NC VISTA program. VISTA (Volunteers in Service to America) is one of the three main branches of the AmeriCorps program. VISTAs often work in more behind-the-scenes positions than other AmeriCorps programs, helping increase capacity and resources in nonprofits like the Reidsville Area Foundation. 
Patel hopes her time as an AmeriCorps VISTA—AmeriCorps members typically serve one-year terms—serves not only the needs of Rockingham County's underserved populations, but a personal career transition as well. Unlike many AmeriCorps members, who often enter service straight out of high school or college, 25-year-old Patel already had a full-time job she loved: working as a family consumer science agent for Rockingham County's NC State Cooperative Extension Service.
However, the connections she saw in the work between race, poverty and health refocused her career ambitions. She now wants to study elementary education or social work in graduate school, and envisions a year of AmeriCorps service as a crucial intermediary classroom of real-world issues and people skills.
"This job is great for networking," said Patel. "Just talking to people, you never know what doors will open."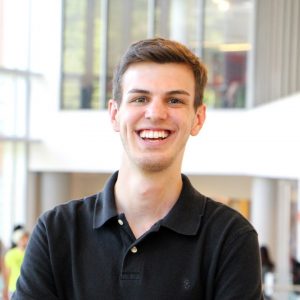 Paul Nolan, who's currently serving with the Service Year NC VISTA Program at NC State's Institute for Emerging Issues (IEI), sees the program opening doors for him as well, within his role as lead for IEI's "Text, Talk, Future" initiative. Nolan graduated from NC State with degrees in materials engineering and political science in December of 2017. He's not exactly sure where he wants his career to go yet—maybe public policy, maybe something else—but knows that his year of service will help him figure it out.  
"I think it has allowed me to get the experience of a real job. I could see myself going into the nonprofit sector," Nolan said of his AmeriCorps VISTA experience.
For Nolan, the program has also been a bridge allowing him to experience what it's like to live in poverty. Already accustomed to the meager budget of a college student, Nolan still had to adjust to the small AmeriCorps living stipend. AmeriCorps VISTA members receive a modest living allowance designed to mirror the living conditions of the communities they're serving. "I've literally made a spreadsheet of every dollar I spend," Nolan said.
Nolan was among a group of AmeriCorps and other Service Year members who met Thursday, March 8, at the Hunt Library on NC State's Centennial Campus in a networking meetup hosted by IEI. Meetup attendees listened to inspirational remarks by Atrayus Goode, president of the Movement of Youth. They also heard IEI Policy and Program Manager Maggie Woods reflect on her past service as an AmeriCorps VISTA.
Besides dollars and cents, AmeriCorps members learn to relate to their communities in other ways. "I see service like AmeriCorps as a way to bridge divides," Woods said. A California native, Woods served as an AmeriCorps VISTA for two years on education access issues in New Hampshire. "It's hard to hate someone when you're in the trenches with them," said Woods, who called working with and for people from different backgrounds a barrier breaker for stereotypes and generalizations.
From a more logistical standpoint, a full year of service with programs like AmeriCorps also looks great on a resume.
Steve McDonald, director of NC State's sociology graduate program, whose research specializes in labor force issues, put it this way: "Employers in the U.S. are increasingly interested in hiring workers based on their character, and they often view volunteer or service work as crucial insight into that character. This is partly because volunteer experiences translate into work skills such as interpersonal skills, customer service and working in teams."
AmeriCorps work is also good for the employers themselves, who get a chance to build much-needed capacity on often cash-strapped budgets, Woods said. "For nonprofits, it's a win-win."
Want to learn more about how you can serve? Visit the AmeriCorps website or read more about IEI's Service Year NC initiative.
–Beth Hatcher