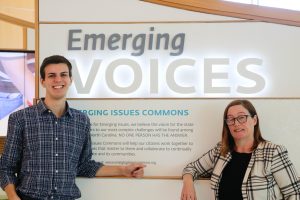 IEI is excited to welcome two new staff members to the team!
Beth Hatcher is our newest communications associate, and will be leading our social media outreach, and contributing her journalistic prowess to IEI's multimedia storytelling efforts. Beth uses new and traditional media alike to tell the stories of IEI, drawing on her varied background of newspaper reporting, magazine writing and university communications. A native North Carolinian, she enjoys educating others about the many ways IEI's initiatives drive her beloved state forward—toward a future that is brighter for all. A former reporter for The News & Observer, she's also donned Duke blue as a news writer and public communications specialist for Duke University. She began her career wearing Carolina blue as a graduate of UNC-Chapel Hill's School of Media and Journalism. However, red might be her color. She'll also have words with anyone who doesn't believe in the superiority of Eastern-style North Carolina barbecue.
Paul Nolan is serving as an AmeriCorps VISTA through the Service Year NC initiative, and will be leading "Text, Talk, Future" — a text-based platform to facilitate peer dialogue about life after high school – and assisting with action steps produced by the 2018 Kidonomics forum. Paul has an impressive record of service and leadership at NC State. He served as the 2016-17 Student Body President, and will graduate in December with degrees in materials engineering and political science. Paul is eager to continue his service to NC State and the people of North Carolina through his work at IEI.
A warm welcome to Beth and Paul!