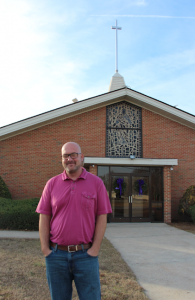 Just a stone's throw from the Faison Piggly Wiggly, there's a man on a mission—his name's Jabe Largen and he's pastor of the Faison United Methodist Church in Faison, a tiny eastern North Carolina farming town, situated amid miles and miles of flat brown fields.
Besides the Piggly Wiggly (literally just blocks from the church), there's a handful of chain stores, a pickle processing plant and a small downtown dominated by mom-and-pop Hispanic businesses, reflective of the town's vast demographic changes over the past several decades.
But one thing's a constant in town: The importance of the church in the community's health, especially in the well-being of its children, and especially this time of year.
"We don't want a kid to feel bad just because Jesus had a birthday," Largen joked as he relaxed in his church office, part of a small, brick building that dates back to the 1880s. That's why for the past several years he has spearheaded church fundraising efforts that buy holiday toys for local underprivileged kids. This year, the campaign, fueled by social media and word of mouth, raised over $7,000 for 32 kids and their siblings at North Duplin Elementary School.
Largen credits such fundraising ideas—the church also leads a summer food program and other need-based events throughout the year—to his participation in the Thriving Rural Communities program, a Duke Endowment-funded initiative through which the Institute for Emerging Issues (IEI) aids rural faith communities in identifying and addressing the needs of their communities.
"It's great to just be around like-minded people, to brainstorm, to see what did and didn't work for other people," Largen said. For example, Largen got the idea for his church's summer food program, meant to address the void left by a lack of free school meals during the summer holiday, from learning about another church's efforts at a Thriving Rural Communities event.

And though some might say that food's more important than holiday gifts, Largen doesn't necessarily agree. "A holistic approach to the formation of a child is important. If they feel less than in one area, that affects how they feel in other areas. Their whole being is connected," Largen said.
Katie Ashmore agrees. This holiday season, the Faison single mother will benefit from Largen's gift-giving fundraiser for the second year in a row, enabling her to provide happy holiday memories for her three kids, Ryan, 12, Ana, 11 and Major, 8.
"I don't have extra money. Most of my money goes to bills," said Ashmore, who works as a certified nursing assistant. "Being a part of this program is like a big sigh of relief, like literally, like 'Thank you, God.'"
Knowing that she can provide for her kids—her youngest boy likes skateboarding while her oldest loves art, her daughter's into softball—gives Ashmore a sense of dignity during the holidays and it's just as important for the kids' sense of well-being.
"It makes them feel like their parents can provide like other parents can. It makes them feel secure," she said.
For Largen, such fundraising efforts are simply part of living the values of his faith.
"As a church, we want our footwork and our mouthwork to match up with one another. If a church is not working to earn the respect of the community, then you're just another building," Largen said.
Want to learn more about Thriving Rural Communities? Contact Kylie Foley, our rural faith communities fellow, at kdfoley@ncsu.edu.
And remember, IEI will be examining community involvment and other aspects of early childhood development during our upcoming kidoNomiCs Forum, happening Feb. 5-6 in Raleigh!