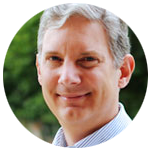 Leaders across the state are increasingly focused on—and investing in—early childhood development programs in their communities.  Some communities are improving and expanding existing programs while others are working to get new efforts off the ground.  What they all have in common is the need to finance the work.
Brain science research is showing clearly how important the first years of a child's life are to laying a strong foundation—or not—for later success in school and life.  Poor quality experiences make it difficult for a child to learn, increasing the odds that he or she will drop out of school.
In the absence of significant new resources from the federal and state governments—the traditionally largest sources of early childhood funding—communities are looking for new options.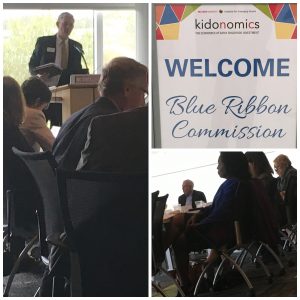 The Institute for Emerging Issues has convened a distinguished group of state and local stakeholders from the public and private sectors to examine public and private financing options at the local level.  This "Blue Ribbon Commission" is co-chaired by State Senator Chad Barefoot, Dr. Mandy Cohen, Secretary of the NC Department of Health and Human Resources, Jim Hansen, Regional President for PNC Bank and Durham Commissioner Brenda Howerton, President of the board of the NC Association of County Commissioners.
The commission's goal is to recommend a "menu of local options" to which all communities should have access, while also taking note that communities vary considerably in terms of their ability to generate specific funding streams and that some funding sources are better for piloting new programs than sustaining them over the long term.
At its first meeting on October 16, the commission laid a foundation for its work. Tracy Zimmerman and Lisa Finaldi of the NC Early Childhood Foundation detailed the complex mix of state and federal streams that traditionally fund early childhood development in North Carolina.  They also showed how the Great Recession negatively impacted these flows and how more recent actions at the state level, in particular, are helping to raise these back to pre-crisis levels.
Elizabeth Gaines, with the Washington, DC-based Forum for Youth Investment, followed with local financing examples from around the country.  These included state authorized special taxing districts (Florida) and local children's services funds (Missouri) that allow communities to levy taxes dedicated to children's programming.  Still other communities have garnered voter support for specific tax increases or are setting aside a portion of existing collections to fund this work.  All of these efforts rely heavily on the two most common sources of local tax revenues: property taxes and sales taxes.  However, some local governments are looking beyond these to other sources, including dedicated taxes (on sweetened beverages, tobacco, parking) and fees, fines and service charges (development impact fees, marriage license and divorce filing fees).
Gaines also drew attention to a new "outcomes-based funding" model gaining traction in the U.S.  This approach, which can include both public and private resources, focuses on the achievement of specific early childhood development outcomes.  Social impact bonds—the most well known version of this approach—feature private funders providing working capital (to fund a childhood development program) and being repaid with interest if they achieve agreed upon goals.  A school district in the Salt Lake City area is using a version of this approach to fund preschool expansion.  There, private investors are fronting the costs and being repaid for meeting specific targets for reducing the number of participating children needing subsequent remedial education.  In 2016, South Carolina used this model to launch a statewide expansion of the highly touted Nurse Family Partnership home visiting program, financed by a mix of public (43%) and private (57%) funding.
Over the commission's next two convenings, the group will take a closer look at public and private (philanthropic and business) funding options.  At a final December meeting, the focus will be on opportunities to more efficiently use existing resources—something that Gaines highlighted as important to any local childhood development effort.
________________________________________________________
Pat Cronin is the Assistant Director for Policy and Programs at Institute for Emerging Issues.