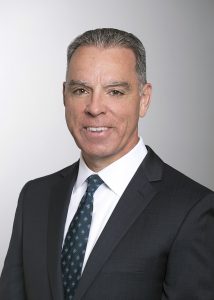 RALEIGH, NC —The Institute for Emerging Issues (IEI) is pleased to announce the appointment of Stephen G. De May to its National Advisory Board.
The following biography is from the Duke Energy website:
"Stephen De May is the North Carolina president of Duke Energy, serving approximately 3.3 million electric retail customers and 717,000 natural gas customers. He is responsible for the financial performance of Duke Energy's regulated utilities in North Carolina and managing state and local regulatory and government relations, and community affairs. He also has responsibility for advancing the company's rate and regulatory initiatives, water strategy, hydroelectric licensing and lake services. He assumed his current position in November 2018.
De May previously served as senior vice president, tax and treasurer for Duke Energy. As treasurer, he was responsible for financing and capital markets activities, liability management, liquidity and cash management, long-term investments and managing Duke Energy's relationships with the major credit rating agencies. As head of tax, he was responsible for federal, state, local and international tax compliance, audits, research, structuring and tax planning, property tax, income tax accounting, tax information systems and Sarbanes-Oxley compliance with respect to tax matters. He has also led the investor relations function, where he monitored trends in the investment markets and maintained key relationships with debt and equity investors, analysts and financial institutions.
Stephen joined Duke Energy in 1990 as a director of the company's former real estate development business, Crescent Resources, where he had responsibility for managing the finance and accounting functions. Before joining Duke Energy, Stephen worked in the tax practices of Deloitte & Touche and Price Waterhouse in Raleigh and Charlotte.
Stephen graduated from the University of North Carolina at Chapel Hill with a Bachelor of Arts degree in political science and a Master of Business Administration degree from the McColl Graduate School of Business at Queens University of Charlotte. He is a certified public accountant in North Carolina. In 2010, he completed the Advanced Management Program at the Wharton School of the University of Pennsylvania.
De May currently serves on board of directors for the North Carolina Chamber, the USO of North Carolina, National Advisory Board of the Institute for Emerging Issues, and NC F1RST Commission with the NC Department of Transportation.

A native of Long Island, N.Y., De May and his wife, Linda, have three children."
See full list of 2019-2020 National Advisory Board Members
---
About the Institute for Emerging Issues
The Institute for Emerging Issues (IEI) at North Carolina State University is a nonpartisan public policy organization focused on the state's vibrancy and economic competitiveness. Since 1986, the Emerging Issues Forum has attracted leaders in business, education and public policy to discuss issues with profound implications for North Carolina's future prosperity. For more than three decades, the Forum has helped catalyze the policy reforms, public investments and other proactive responses required to build an enduring capacity for progress in North Carolina.
###