Patrick Cronin speaks with the same quiet precision he applies to his work, whether it's recapping points from the recent IEI kidonomics Forum or listing off details of KidsReadyNC, IEI's new statewide reading initiative.
You get a feeling, speaking to Cronin, that his voice has rarely raised above this calm, dulcet level, even during the 10 years of change and growth he's seen at the Institute for Emerging Issues, the majority of those years spent as the Institute's assistant director for policy and programs.
The son of a mathematics professor, Cronin lived in five different states before attending Middlebury College in Vermont, where he received a B.A. in history. He found his way to North Carolina via the University of North Carolina at Chapel Hill, where he received an M.A. and Ph.D. in political science. Afterwards, he made his way out west, teaching in the international studies department at the Thunderbird School of Global Management in Arizona.
Eventually, he found his way back to N.C. again, in part thanks to his wife, Elizabeth Hudgins, a native of N.C., with whom he shares a 17-year-old son, Aidan.
Cronin has enjoyed the opportunity his job at IEI has given him to study regional economic development. "I was interested in issues of competitiveness," Cronin said. "We live in a world where lots of important assets, like money and people and knowledge, are clustering —or not—at a regional level."
This past Fall, Cronin took a lead role organizing the work of IEI's Blue Ribbon Commission, examining local financing options for early childhood investment while helping to organize the 2018 Emerging Issues Forum. He found both to be rewarding experiences, appreciative of the subject matter and for sharpening his organizational skills.
"There are so many aspects to organizing a Forum. It's a big project management exercise to have all these strands of work coming together," Cronin said.
Cronin is optimistic about the conversation the Forum has helped energize about N.C.'s early childhood development, noting that, traditionally, much attention around improving workforce development has focused on K-12 and higher education reform, but little on early childhood development, though recent research—much of which was discussed at the Forum—has shown just how crucial those first years of development are for children.
"We have too many kids coming out of high school who are not career or workforce ready. How do we change that?" Cronin said.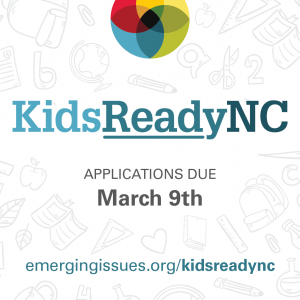 Another way Cronin and the rest of IEI will be addressing that issue is through a new IEI childhood literacy initiative called KidsReadyNC.
This new initiative is an 18-month effort to help selected Tier 1 or Tier 2 communities strengthen the capacity of their local early childhood development systems.
Communities will be asked to select a NC Pathways to Grade-Level Reading measure of success as the focus of their work. Selected communities will receive tools, technical assistance and participate in a peer learning process, all designed to boost capacity and improve outcomes.
To learn more about the program or to apply, click here.