With our 2018 kidonomics Forum just one week away, we're reaching out to a few our of Forum speakers to get their take on why early childhood development is important not only to the state as a whole, but to their respective fields of business. This Q & A is with Jim Hansen, regional president of PNC Bank Eastern Carolinas. Hansen talks about why healthy education and healthy kids make for a healthy NC business climate.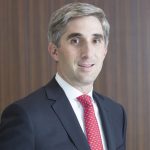 Q—How does early childhood investment contribute to North Carolina's business health?
The returns on investment in high-quality early education and school readiness initiatives are significant and long lasting. The returns impact our children, our society and the health of our economy for generations to come. We all benefit from having a stronger, more capable workforce that can contribute to the success of North Carolina by being productive citizens.

Q—Did your parents read to you as a child?
Both of my parents were readers. They read to my brother, sister and I nightly when we were young. My mother was a first grade teacher, so she understands the value of early childhood education and of building a strong reading foundation. My father was a constant reader of both fiction and nonfiction, so I was fortunate that there were plenty of books and good examples in our home.

Q—What were your favorite books?
One of my favorite books as a young child was "The Very Hungry Caterpillar". I also have fond memories of reading Richard Scarry's Busytown books, and as I went into elementary school, "The Trumpet of the Swan" by E.B. White. Interestingly, I have read each of those with my children over the last decade as they have grown up. Great books span generations.
Q—Were your parents/caregivers invested and interested in your education? In what ways did they show this and how did this contribute to your success in school as a young child?
They were. They both didn't come from much, but they each had a parent that pushed education, which then influenced how they raised us. Though they both worked, they were very present in our lives and reinforced an expectation to do well in school. They also challenged us to learn on our own, through research in the dictionary or encyclopedias if we had questions.

Q—What activities did you participate in as a young child (faith, school, family or community-based) that you remember helping foster your educational success?
Beyond just being in school for an education, my parents always pushed me to be in leadership roles in school at all levels. We also had a great community around us in Winston-Salem that helped make sure we were raised with the right foundation. That flowed through a number of activities and were seen in our friends, church, sports coaches, and many others.
Q—What skills did reading give you? How do those skills contribute to your current business success?
Reading is a gateway to learning, it drives a thirst for knowledge. Being a quick reader allows you to digest information and make informed decisions. Reading also improves your writing skills and vocabulary, which are required in business to interact with a variety of individuals and industries. Lastly, reading keeps you up to date on current issues facing your company or economy, must-haves in today's dynamic economy.
Q—What's one thing you would like to see change about early childhood investment in NC?
Increase the access to high-quality, full-day, pre-K in North Carolina in all 100 counties. We have a high-quality program that needs more access. I believe we must continue to take steps towards a comprehensive governance structure with relevant data so that we can properly follow the progress of students towards third grade reading proficiency, a key factor is their long-term success.

_____________________________________________________
Detailed information on the 2018 Emerging Issues Forum, kidonomics, is available here.