For Lisa Hayworth, working at a community college drove home the importance of early childhood development, and if that connection seems a bit far removed—it shouldn't.
Educators at all levels have long known that the foundation for students' personal and academic success starts in the pre-K years. For the past two decades, research spanning from brain development to the effects of childhood trauma, as well as a generation of working mothers demanding better childcare, has done a good job convincing the rest of society as well.
Early childhood matters.
Strong early childcare systems invest not only in the lives of children, but in a community as a whole, laying the foundation for higher-performing students at all grade-levels and, ultimately, a more vigorous workforce.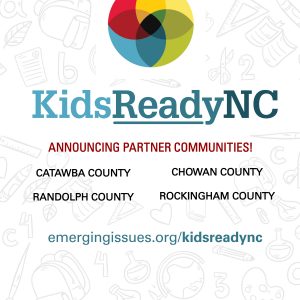 That's why the Institute for Emerging Issues (IEI) is proud to invest in four North Carolina communities with our new KidsReadyNC initiative. Designed as an extension of our 2018 kidoNomiCs Forum, which showcased the connection between healthy early childhoods and a healthy economy, the initiative will aid four communities—Randolph, Chowan, Catawba and Rockingham Counties—in strengthening their early childhood systems.
Funded in part by grants from The Belk Foundation and The Duke Endowment, the initiative will help communities reach goals in one of the seven "measures of success" identified by NC Pathways to Grade-Level Reading.
KidsReadyNC community Randolph County, where Lisa Hayworth now works as the executive director of the Randolph Partnership for Children, has chosen to work on providing better access to quality early childcare, a huge priority for the west-central North Carolina county, which like much of the state is facing a transitioning economy.
Previously, Hayworth spent six years in administration at Randolph Community College where she saw first hand just how ill-prepared many of the students were for the workforce.
"What we kept hearing from employers was that students lacked the soft skills," Hayworth said, skills like showing up on time, knowing how to work within a team and an ability to take constructive criticism. The development of those skills, like professionalism and teamwork, are just as important as learning ABCs, and just like reading, start in early childhood, Hayworth said.
Kim Holden, executive director of the Catawba County Partnership for Children, agrees. "If you extract everything that you need to build a strong community, you find yourself in the early childhood realm. It really seems like it's where the rubber meets the road," she said.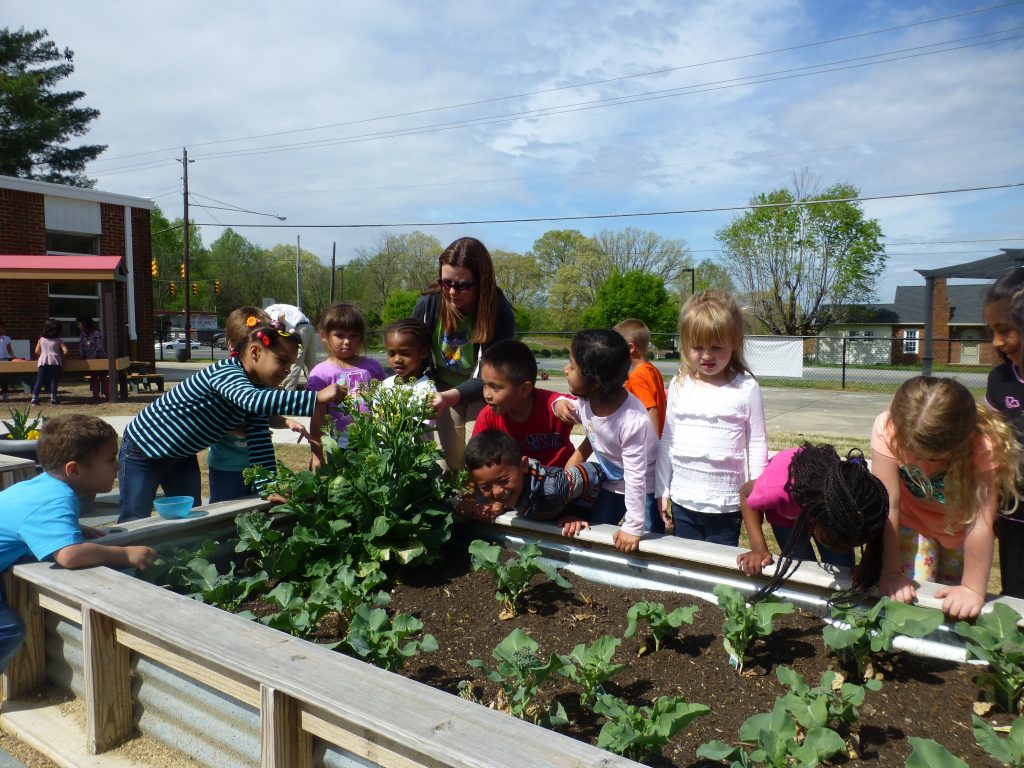 Catawba County will also use KidsReadyNC to focus on providing greater access to quality early childhood care. According to Holden, "this community is ready for this effort," but like much of North Carolina, Catawba lags behind in providing universal access to early childhood programs, either because of lack of program space or because there's a lack of understanding of the importance of early childhood development.
Susan Nixon understands the dilemma. The mother of three never took part in any early childhood programs herself as a kid. "I grew up on a farm—that was daycare, going into the fields. Families didn't see it as a priority back then," she said. Nixon still lives and works in the same eastern North Carolina county where she was raised. Now, as executive director of the Chowan/Perquimans County Smart Start Partnership, she envisions the KidsReadyNC initiative helping her organization raise awareness about the importance of early childhood programs. Her goal: providing universal access to early childhood programs to all four-year-olds in her area.
IEI's kidoNomiCs Forum, held Feb. 5-6 in Raleigh, brought early childhood development to the forefront of an increasing state dialogue about the issue. At the Forum, over 700 attendees heard from a multitude of speakers and panelists—representing a diverse array of fields from business to faith—speak about the connection between strong early childhood systems and North Carolina's future.
"Through our kidoNomiCs work, we've tapped into a remarkable—and growing—level of awareness about the economic importance of promoting high-quality early childhood development for all children," said Patrick Cronin, IEI assistant director. "With KidsReadyNC, we look forward to continuing this work, as we aid leaders in these communities in strengthening their capacity to improve outcomes for children and families."
Heather Adams, executive director of the Rockingham County Partnership for Children—another of the communities taking part in KidsReadyNC—also feels the growing awareness around early childhood issues throughout the state. She cites well-documented research illustrating the importance of brain development during early childhood years, as well as a greater understanding of the lasting impact of childhood trauma, as topics that have sparked greater debate about the importance of early childhood development in North Carolina.
Rockingham County officials hope to gain a greater understanding of what early childhood services they're missing, what's working and what isn't, through their participation in the KidsReadyNC initiative, Adams said.
Want to learn more about KidsReadyNC? Visit emergingissues.org/KidsReady.
-Beth Hatcher