What do you get when one driven executive assistant, a whole Institute for Emerging Issues (IEI) and Reach Out and Read Carolinas put their heads together?
A month-long children's book drive that raises 2,500 children's books for use at pediatric clinics around the state!
IEI Executive Assistant Renee Potts brainstormed and spearheaded this massive effort that featured drop-off points around the state, a campus-wide challenge and a virtual donation platform. Reach Out and Read Carolinas, a local chapter of a national nonprofit which gives young children a foundation for success by incorporating books into pediatric care, was a logical partner for the book drive.
"The Reach Out and Read experience for families begins in the waiting room, which should be literacy-rich areas that reinforce the doctor's message about the importance of reading together," said Callee Boulware, executive director of Reach Out and Read Carolinas. "The book drive in partnership with IEI will help us fill the shelves of ROR provider waiting rooms across the Carolinas."
Besides the book drive donations that came in from around the state, each college at NC State was challenged to donate as many books as possible. The winner of the NC State challenge was Harald Ade, a physics professor with the College of Sciences—he donated 222 books. Gregory Raschke, interim vice provost and director of NCSU Libraries, came in second with a 127-book donation, and Marcelo Ardon Sayao, an assistant professor in the department of forestry and environmental resources with the College of Natural Resources rounded out third, with a donation of 87 books.
"My wife and I took the drive as an opportunity to share some of the books our kids enjoyed—they are now in middle school—and make some more space for new books," said Raschke, who made reading to his kids a priority. He noted that reading "is probably one of the most important factors in early childhood development and early educational advancement."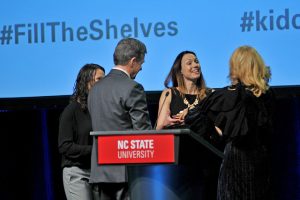 "The earlier you start reading to kids, the more their language and brain develops," said Potts, who's also a mother of four young children. "NC State's quick response to the book drive made me proud to be a part of the university community."
In recognition of the book drive, Gov. and Mrs. Cooper donated books during the 2018 kidoNomiCs Forum.
During the book drive, IEI also convinced NC State Chancellor Randy Woodson, Provost Warwick Arden and other distinguished guests to read a little "Green Eggs and Ham" to raise awareness about childhood literacy (watch the video).
Sen. Chad Barefoot and Sen. Jay Chaudhuri also read to kids at an event promoting the book drive at Read with Me in downtown Raleigh.
Childhood literacy was a central theme of IEI's recent kidoNomiCs Forum, held Feb. 5-6 here in Raleigh. The Forum hosted more than 50 speakers and panelists who addressed the economics of North Carolina's early childhood development from a multitude of angles.
The importance of early literacy—and its tool as a measuring stick for overall educational success—highlighted many conversations at the Forum, with speakers from SAS CEO Jim Goodnight to N.C. DHHS Secretary Mandy Cohen addressing the topic.